Historic campaign continues for UC women's ice hockey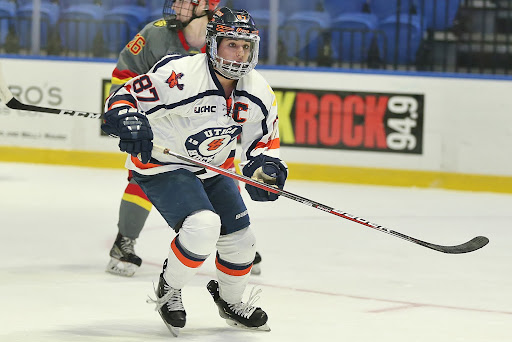 At 14-3 overall and 11-1 in UCHC conference play, the Utica College women's ice hockey team is currently second in its conference with just one month left until the UCHC tournament. 
The Pioneers currently have a winning percentage of 82.4, which is the best winning percentage in the program's history. The team came into this season following two straight seasons with losing records and head coach Dave Clausen and the team came back with something to prove. 
"This year's team is something special," junior Erica Sloan said. "I believe that we have proven to be competitive in our league and have shown the depth we have as a team." 
The Pioneers have been nothing short of competitive this season, as the team is nationally ranked in statistics on both sides of the puck, including being the number one team in the country in team goals (92), assists (152), points (244), while the goaltenders are ranked number two in the country in total shutouts (7).
Unlike most teams at Utica College, these women create a special dynamic, coming together from twelve different states and one province. Each of these women quickly learn to play as a unit, building a chemistry as if they've played together their entire lives. 
"Something I love about this team is no matter what grade you're in or where you stand within the team, everyone is a leader," sophomore Carly Stefanini said. "We've had freshmen, sophomores, juniors, and seniors all step up when needed and lead the team in their own way."
Throughout the course of the season, the depth of this team has been proven time and time again as the Pioneers have outscored their opponents 92-22, with goals coming from over half the roster. 
Senior captain Georgie Santullo has compiled 20 of those goals alone, and nine of those goals came from three hat trick games, which occurred in back-to-back-to-back games. Santullo is currently ranked number one in the nation in goals per game (1.18).
Over the course of the season, Santullo has accumulated 33 points and she is currently ranked number two in the nation in points per game (1.94).
As the team's offense continues to dominate, the goaltenders have shown to be working just as hard. Senior Savannah Gutierrez and sophomore Angela Hawthorne share seven shutouts between the two of them, and both Hawthorne (1.29) and Gutierrez (1.57) are ranked third and fourth in the conference in goals against average.
"Every player on our team has so much talent and are all great hockey players," Stefanini said. "As a team, we know what we want to accomplish in each and every game. We trust each other and everyone's hockey ability to do their part in order for our team to succeed." 
The Pioneers return home for two games on Friday Jan. 28 at 2:30 p.m. and Saturday Jan. 29  at 1:30 p.m. for a conference matchup with Neumann University. 
"Everyday we go to the rink ready to get better and compete during practice, which only makes us better as a whole," Sloan said.