Colby Kusinitz elected SGA president after Hawley resigns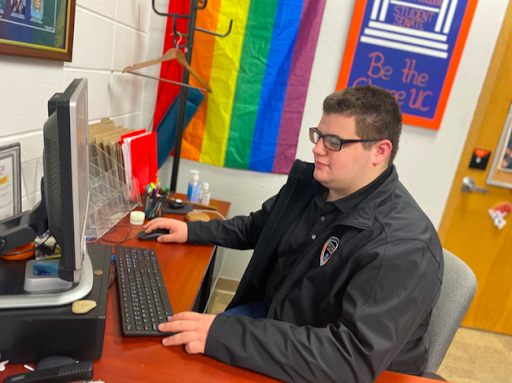 On Friday, Dec. 3, it was announced through the Morning Mention that Colby Kusinitz was elected as the new Student Government Association president.
Kusinitz's election came after the resignation of former SGA president Katherine Hawley. The House of Organizations announced Hawley's resignation during Thanksgiving break.
"Thank you all so much for your service to this community so far this year," Hawley said in the email. "I will always continue to be your advocate, you can always reach out to me."
The SGA Student Senate held a meeting on Wednesday, Dec. 1, where nominations were taken for the presidential spot. Natalie Devine nominated Kusinitz, who ran unopposed. 
Kusinitz is a cybersecurity major from Long Island who expects to graduate in 2023. He is the captain of the Utica College Emergency Medical Service organization and president of the Jewish Student Union.
He has been involved with the SGA since his sophomore year of college and wants to establish direct connections with fellow members.
"I really have to hear not only what my constituents have to say, and what my senators and class officers want to see done," Kusinitz said. "I sent an email to all of them asking if they wanted to meet one-on-one, and I think I had three to four of them schedule so far to hear what they have to say and address their concerns."
As president, Kusinitz wants to work closely with the organizations on campus and establish a delegation system within the SGA for clear and effective communication.
"Each member of my E-board has a working relationship with one of the VPs," Kusinitz said. "So if we have an issue that is in that VP's area, I can have my E-board member connect to the student with that issue and both of them can go to the vice president or director of the equivalent department."
Kusinitz said, for example, if a student poses an issue regarding communications, the communications director for the SGA could pair with that student and create that line of discussion with the head of that department.
"I think this is also a great opportunity to bring people who are higher-up more down into what's happening on campus and what do students need from administration," SGA Vice President Jaydy Hernandez said. "We will serve as students' direct line of communication when speaking to administration."
Other members of the SGA have offered words of support for Kusinitz's election.
"I think Colby has a lot of promise to bring meaningful changes to our college during the spring semester," said Jordan Conestabile, a political science major and member of the SGA. "He was also very passionate about making sure that everyone's voices were heard, which was a nice thing to see."
If students want to schedule a meeting, SGA office hours are posted on the door of Strebel 207, according to Kusinitz.
"If [students] email me, in my footer, I have a link to book an appointment with me," Kusinitz said. "I am more than willing and I hope students reach out to me, so I can not only hear their concerns, but put them in touch with members of my E-board who specialize in that area."