Annual Kwanzaa Banquet and Celestial Night both set to take place over the weekend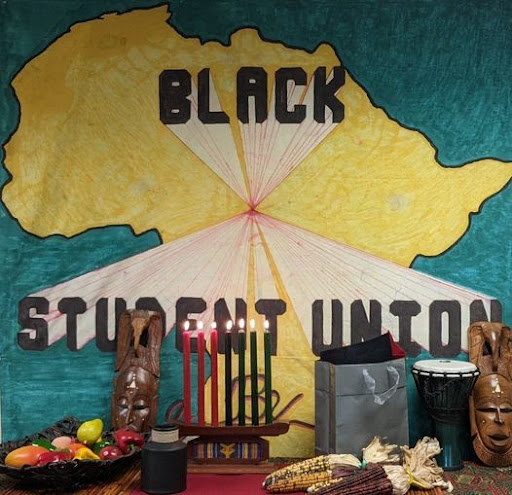 The Black Student Union has traditionally held its Kwanzaa celebration on the first Saturday of December and that tradition will resume this year as the annual Kwanzaa Banquet is scheduled from 3:30 – 5:30 p.m. Saturday, Dec. 4 in the Library Concourse. 
Utica College has celebrated Kwanzaa for 31 years, including last year's virtual celebration. The Kwanzaa celebration is typically filled with food, cultural garb and dancing. As on-campus life regains a semblance of normalcy, the BSU plans to hold this year's Kwanzaa celebration in-person with its traditional banquet, while also offering a hybrid option for those who would like to attend virtually through Zoom.
The banquet will feature traditional soul food including mac and cheese, collard greens, cornbread and more. Funding from the Office of Diversity, Equity and Inclusion, Black Alumni Association and Student Government Association was requested to supplement the costs. 
Isabella Gilbert, president of the BSU, recently took this request to the Student Government Association. The SGA was asked to contribute $1,925 and it was approved with overwhelming support from the senate. It will cost around $2,600 to fund the event. Utica College students can attend the Kwanzaa dinner free of charge. Faculty and staff are encouraged to make donations. 
Kwanzaa is a week-long celebration of African-American culture held every year from Dec. 26 to Jan. 1. 
The holiday has seven core principles, including Umoja/Unity, Kujichagulia/Self-Determination, Ujima/Collective Work and Responsibility, Ujamaa/Cooperative Economics, Nia/Purpose, Kuumba/Creativity and Imani/Faith. Each day, a candle is lit on the Kinara, or candle holder, to celebrate the principle being honored that day. The colors of the Pan-African flag, red, green, and black, are used to decorate for this holiday. 
Kwanzaa has a rich history in the United States. Following deadly riots in the 1960s, Maulana Karenga created the African American holiday as a celebration of the unique culture developed in the United States. Karenga's vision for Kwanzaa was as a Black alternative to the commercialism of Christmas, which he felt Black Americans felt a disconnect from. 
On the first day of Kwanzaa, a mat is placed on a table, which is decorated with corn, fruits and vegetables and the Kinara. On the first night, the black candle is lit in honor of those of African descent, and on each night after it is alternated between green and red candles, representing life and blood of the ancestors. 
The BSU is also hosting a "Celestial Night: Paint n' Sip" on Dec. 3 from 5:30-6:30 p.m. in Strebel Lounge, in preparation for their Kwanzaa banquet. Celestial Night is traditionally held the night before Kwanzaa. Students should expect a stress free environment, in which they will learn about the history of the holiday. 
To reserve a spot at the Kwanzaa banquet, register through this event form. Anyone who would like to attend the banquet through Zoom should register using this link.