Megan Chamberlain: UCFH's new all-time saves leader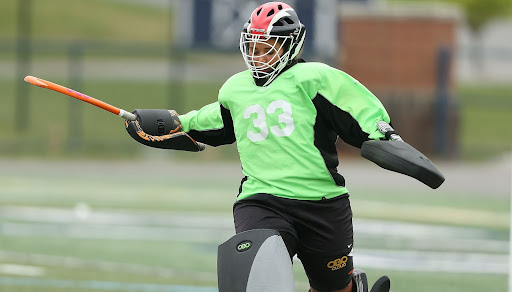 The Pioneers rolled past Houghton College on Oct. 23 for their eighth win of the season, but for senior Megan Chamberlain, the game was more than just a win.
Following four saves in that game, Chamberlain reached the top of the record books standing tall, second-to-none as Utica College women's field hockey all-time saves record holder. 
Just four years ago, the freshman walked onto campus wide eyed and ready to work for any role head coach Nikki Kieffer had to offer her. 
"The competitive athlete inside of me was ready to go to work and fight for a spot," Chamberlain said. "But I also knew that I would respect whatever role I was given."
Little did she know the spot was practically hers before she even put the uniform on. 
"Since her first day, maybe even since her recruiting visit, Meg has been someone who just eats, sleeps and breathes all things UC and UCFH in particular," Kieffer said. 
Long-time teammate and graduate student Sabrina Whitehouse had the same feeling.
"When Megan came in as a freshman, the first thing I noticed about her was how passionate and excited she was to be a part of UCFH," Whitehouse said. "She was sweet, hardworking, enthusiastic and always willing to put in extra work to become better."
Fresh out of high school, a young Chamberlain only had three years of experience in the sport she would excel at most. 
Chamberlain's high school JV field hockey coach, Jeanne Chirgwin, remembered how athletic Chamberlain was on her first day of being a member of the field hockey team. Recalling, much like Kieffer, her drive to be better each and every day, right from the start. 
"We needed a goalie that year," Chirgwin said. "We put Megan in the goalie pads and that was the beginning of an amazing career for Megan." 
As a high school junior, Megan was selected as a Second Team Conference All Star, and in her senior year, she was selected as a First Team Conference All Star and team captain.
"As a coaching staff, we were fortunate to have someone able to help encourage all the best from those around her," Chirgwin said. "Our Queensbury field hockey coaching staff and athletic department are so proud of Megan's many accomplishments."
Even yet, there was no way to know for sure just how great Chamberlain would become in the next four years of collegiate field hockey. Some players, though, just have something about them. Something that says, 'they're going to be something special.'
Kieffer recognized this far too easily in Chamberlain's first season. 
"Sometimes, you can just pick out who those players are going to be, the ones who would give up absolutely everything they have to give anything to their teammates," Kieffer said. "We knew that she was going to be that person."
In addition to her all-time saves ranking, Chamberlain is on the leaderboards in eight other categories. This all came from the hard work she dedicated to herself and her team everyday. 
"She's the player and teammate every team wants to have and every team needs to have," Kieffer said. "To be good on the field, but still thinking it wasn't good enough so you ask for extra work during the week before and after practice, that's not something everyone does. It's special."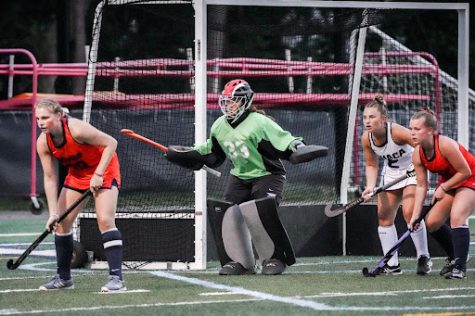 In the games leading up to Chamberlain securing the record, there was some discrepancy on whether or not she did it in their game against Hartwick three days prior (of which they lost). 
In thinking she had beaten the record that day, Kieffer recalled what it was like to congratulate her, claiming that her reaction spoke volumes about Chamberlain. 
"After the game, my assistant and I were congratulating her and she wanted nothing to do with the record," Kieffer said. "Her exact words were 'thank you, but I wanted to win.' In the best way possible, she didn't care about breaking a record or being the best, she cared about her whole team and she cared about something that affected more than just her."
Thankfully, they were a couple saves off and Chamberlain instead, became the best all-time goalie in the following game (her senior game) surrounded by friends, family and teammates following an overpowering Pioneer win. 
"The best way to describe how it feels to hold this record is just extremely rewarding," Chamberlain said. "I truly love this program so much, so to be able to leave my name in the record book and knowing I made an impact is all I could have ever asked for."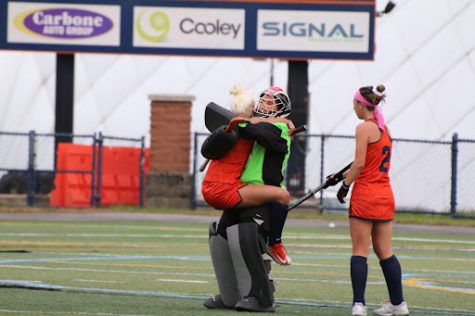 Chamberlain leaves an impact on UCFH in more ways than her athleticism. 
"Her hard work and drive to be the best for the team paid off and it was a surprise to no one that she would go down in the books as the best," Whitehouse said. "She is the epitome of a great athlete and friend and I'm so happy that she got to leave her mark on UCFH in more ways than one."
Chamberlain will leave Utica College with a bachelor's degree in business management and looks forward to finding an assistant coaching job, while completing her masters elsewhere. 
She leaves the field hockey field a legend and a leader, totaling 418 saves in her four-year career. Chamberlain impressively achieved this record, while her junior season was only five games long.
"There is nothing that I'm more thankful for at this stage of my life than the last four years I've spent here at Utica College being a student-athlete," Chamberlain said. "I have learned so many life lessons and grew in so many ways and made so many of my teammates into friends that now feel like family to me."