Utica College Archives: A historical treasure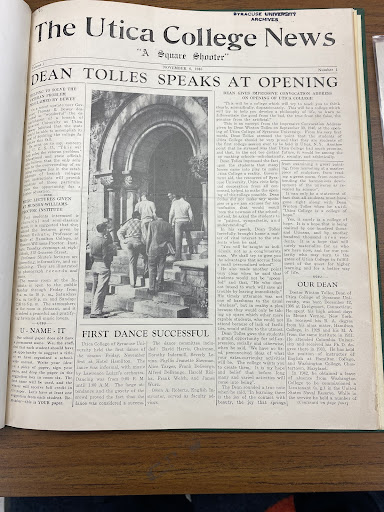 Utica College has become known for many things in its 75 years of existence. Its graduating classes, its faculty, its academic departments for different majors and more. However, there is one hidden gem among all of it that isn't well known. 
Tucked away in the Library Concourse below the library is the Utica College Archives department. The department is responsible for collecting, maintaining and even helping patrons find archived sources related to anything from the college's history.
"It is the final repository where people go to gather information on the history of Utica College," said Anne Flynn, director of Utica College Archives.
Flynn oversees the college archives and helps those who need to find certain historical information, whether it is for projects or just general curiosity. 
According to Flynn, her job involves and consists mostly of four topics of work. 
The first topic is collecting and preserving, which is constantly adding on to the archives as well as handling things that have been in the archives for years.
"Sometimes, the records are in fragile condition," Flynn said. "Rare or one of a kind requiring meticulous handling of the documents. Frequently, I wear white gloves, particularly when handling photos, negatives or slides. By wearing the gloves, I can avoid scratches, fingerprints on the delicate materials."
Flynn agrees that the archive department is useful in ways of keeping the history of Utica College alive from its start back in 1946. They are always on the lookout for more things to add to the archives and their most recent collection being on the COVID-19 pandemic.

"Last year, I initiated a COVID-19 collection where I collected hundreds of documents on how UC responded to the pandemic, collecting, organizing and centrally locating them for future researchers," Flynn said. "I am constantly on watch to add items to our collection reviewing our policy and asking myself: Does this relate to the history of Utica College?"
Another topic of work that Flynn does for the archives is helping and assisting researchers that need information from specific years or certain events. However, some material is restricted access and causes the department to withhold some information from students.
"I assist researchers in using the archives and answering questions about the college," Flynn said. "I explain pertinent restrictions to potential users and apply the restrictions equitably. I answer all reasonable inquiries about archival holdings, maintain and follow up with our loan guidelines. It has been especially busy with the 75th Anniversary."
Flynn also handles other jobs for the department such as marketing, where she always tries to spread awareness about the Archive's existence.
"Oftentimes, I will collect and display materials for a display case in the library," Flynn said. "Currently, there is an exhibit of Utica College commemorating the 75th Anniversary in the upper level of the library along with a display in the entrance of all of the buildings from the original Oneida Square Campus."
Flynn's interest in history is what got her to decide to work in archives, along with her interest in Utica College as a whole. It's important for the information to be preserved for researchers and current patrons, Flynn said.
"These last several years have been very exciting ones with tons of history being made here on campus whether it be building construction, the final separation from Syracuse University, the collapse of the dome and of course the COVID-19 collection just to name a few items," Flynn said. "All of this historic information was identified and preserved for the historical records of Utica College. Utica College is definitely a college on the move."
Flynn said one of the most interesting aspects of her job is ensuring information is archived for future researchers and also working with members of the college community who are doing research for projects or other assignments.
"Oftentimes, when I am looking for information for someone, it is a good learning opportunity for me," Flynn said.
Those interested in going to the archive department and seeing some of the historical information it has to offer, can find it in room 130 in the lower level of the library. It can be seen directly from across the way from the Helpdesk. For more information contact Anne Flynn at [email protected].