BSU provides decades of service to Utica College, Kwanzaa banquet returns next month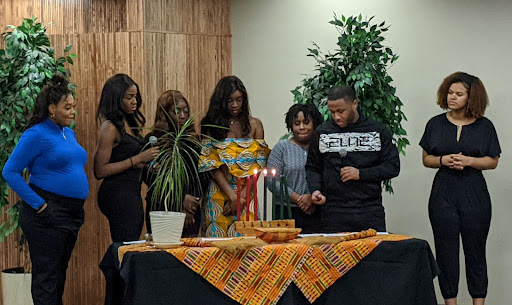 The Black Student Union was founded at Utica College in 1969 and holds the same purpose and views today that it did when it was originally conceived. Next month, the annual Kwanzaa celebration returns after COVID-19 forced the event to go virtual last year. 
The 32nd Kwanzaa banquet is scheduled from 3:30 – 5:30 p.m., Dec. 4 in the Library Concourse. The BSU is also hosting a Paint n' Sip as part of Celestial Night from 5:30 – 6:30 p.m., Dec. 3 in Strebel Lounge. Both events are free and open to anyone who would like to attend. 
The mission of the organization is to facilitate better communication between Black students and the administration at Utica College. The students who are a part of the BSU know that they have each other for support and have a place where they can openly discuss issues they may face. 
Club members said the organization has evolved throughout the years, but the intent of the club has not changed.
"It is a sanctuary for minorities to be able to express themselves and what sorts of issues need to be addressed," said Alma Jasencic, the club's public relations officer. "BSU hosts a plethora of events discussing racism, culture appropriation, inequality, conversations about self care, etc."
BSU President Isabella Gilbert said a student does not have to be Black to join the club. 
"Everyone is welcome, all support is welcome," Gilbert said. 
Since Utica College is a predominantly white institution, having an outlet where students can address issues on race, equality and racism is a necessity, BSU Vice President Amara Clemente-Johnson said. 
"It is important to have a place to be able to deal with racism and have a safe place to vocalize grievances," Clemente-Johnson said. 
The club has a long history at Utica College. In May 1969, students organized a sit-in in the Library Concourse and demanded that the college offer more resources for students of color. Some of the demands included hiring faculty of color, integrating a Black advisor in the Dean of Students' office, starting a Martin Luther King Jr. scholarship and offering a Black studies booklist in the library, according to the e-board members. 
Today, the BSU continues to advocate for positive change on campus and strives to culturally educate and enrich students and the community. 
The club hosted events on campus this semester, including the annual "Fright the Fashion Show" on Oct. 29. Other BSU events that have been held in recent years include Apollo Night, the  annual Kwanzaa Banquet, Growing Up Black Fishbowl, which was a discussion or lesson on the culture and how skin color can impact someone's everyday life, and Lessons Without Borders, a collaboration with the diversity committee.
The e-board is pleased with the membership growth in recent years and encourages others to become involved. 
The club also considers it important to ensure that there is some educational value in the organization. While the organization educates those who may not understand the hardships that many African Americans students face, it also sheds light on issues African American in general face everyday.
"BSU is important for many reasons, one being education," Gilbert said. "In order to build awareness of racial injustices and issues, one must educate themselves on those issues. BSU serves that purpose too and builds awareness on such issues."
Anyone interested in joining the club can visit its PioHub page for more information.