Album Review: A$AP ROCKY'S "LIVE.LOVE.A$AP"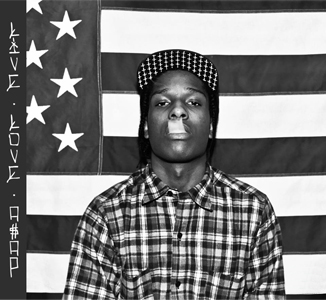 At long last, one of the greatest hip hop mixtapes of all time has been added to streaming platforms in celebration of its 10-year anniversary. LIVE.LOVE.A$AP is the project that put superstar A$AP Rocky on the map. It served as a blueprint for the cloud rap, experimental Harlem sound that came to follow. Rocky has since released three projects on all platforms and left his cult of fans yearning for the classic mixtape to be more easily accessible.
A$AP Rocky is an artist who found his voice early in his career and this mixtape is the proof. Even listening to the tape a decade after its original release, it stands tall with the rest of the music it preceded. His deserved confidence and swag melt over hypnotic beats that round out his music more than many other rappers who rely more upon stripped down trap beats and 808's. Rocky's charisma is infectious and what has made him the icon that he is. 
I once read that A$AP Rocky has "…a cult artist's core with a superstar aura," and I had never been able to find a better way to describe him. His cult following, including myself, hangs on his every movement and waits years at a time for new music. In today's industry, many artists are able to push out multiple projects per year, but for those artists who make more than projects, masterpieces even, we sit idly by for years at a time awaiting new projects. Artists like A$AP Rocky, Kendrick Lamar, Frank Ocean and Isaiah Rashad continue to prove that patience is a virtue and deliver art that is always worth the wait.
This tape provides us with the first collaboration between Rocky and TDE rapper, ScHoolboy Q, which then gave way to a fruitful friendship between the two. Together, they have since released hits like "PMW," "Hands on the Wheel," "Electric Body," and more tracks that true fans often consider favorites. The two, who hail from opposite coasts and rep them both wholeheartedly, have undeniable chemistry. They both have effortless swag that exudes through every one of their collaborations. On LIVE.LOVE.A$AP, they share the spot on "Brand New Guy," where they glide over a classic A$AP Rocky type beat. The beat features soft vocals mixed with consistent bass and breaks where deep vocals take over, a staple in older Rocky works. They end the track by sharing the final verse and trading bars or even portions of bars. This method of collaboration is a personal favorite and speaks to the effortlessness of their connection and confidence in themselves. They compliment each other's sounds and are able to move from topic to topic with ease.
The mixtape also includes the singles "Peso" and "Purple Swag," which are credited to catapulting Rocky to success and include many of the aforementioned early era Rocky characteristics.
This beautiful trip of a mixtape brings acid to the sober mind and provides a path for many New York artists with whom Rocky has shared his success. Now that we officially have LIVE.LOVE.A$AP, there is nothing left for the mob of fans to do, but wait until Rocky's next album which has been teased since the release of his most recent album in May of 2018.