Utica College joins LACRELA diversity consortium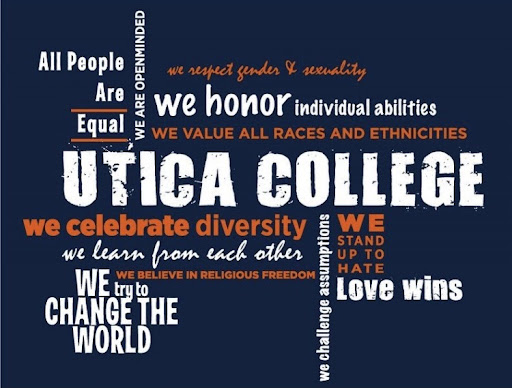 Utica College is one of approximately 50 colleges and universities around the United States who are members of a prestigious program known as Liberal Arts College Racial Equity Leadership Alliance (LACRELA), which looks toward finding creative solutions for addressing racial equity and diversity on campuses.
LACRELA was created by Dr. Shaun Harper, who is the founder and executive director of the University of Southern California Race and Equity Center. Harper visited Utica College in 2019 and helped facilitate a town hall and community conversation focusing on race, ethnicity and equality. 
According to Utica College's website, LACRELA seeks to help professionals at colleges develop and achieve equity goals, better understand and correct problems, avoid and recover from racial incidents and foster sustainable cultures of inclusion.
Nina Nguyen, project manager and senior administrative assistant of Utica College's DEI Collaborative, said eight members from each school are allowed to join the e-sessions that happen once a month.
"Since there are only eight slots per college, we try to take at least two of those eight spots for our own division because we are the leaders of this initiative," Nguyen said. "Dr. Baird is usually our consistent participant each month and usually someone within our division attends with him. I personally have only attended one session because I want to be able to give others the opportunity to join."
Dr. Anthony Baird, who is the vice president for Diversity, Equity and Inclusion at Utica College, said this is the first go around year for the LACRELA program and the e-courses being provided once a month are important.
According to Nguyen, the courses last around three hours and are filled with rich content. The content that is taught during these sessions comes from professionals, and it is seemingly unlimited, according to Baird.
"These are content experts from all over the country, particularly California, that are putting these courses together and now we're imagining another 12 courses in the curriculum that will be offered next year," Baird said. "We don't have a shortage of content, we have a conundrum of disbursement, execution and rollout of said content."
As of November 2021, the LACRELA program has hosted 10 e-sessions, with the first one taking place on Feb. 17, and the last one scheduled to take place on Jan. 24, 2022. Each of these sessions can be accessed from Utica College's LACRELA webpage, where a link will take you to a Google Drive with all the previously recorded course resources.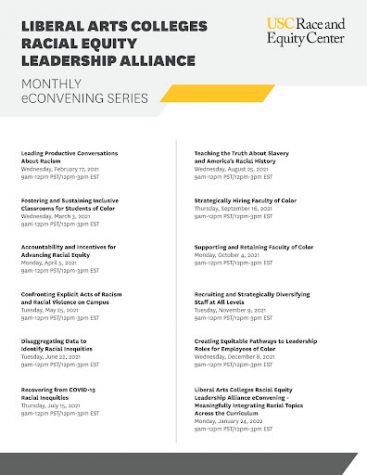 The intention of participating in LACRELA is to make the content available and accessible for the members of the community, including the students, faculty and staff at Utica College, according to Baird.
"We're looking to figure out how we leverage our own acumens around DEI and training abilities to provide training to our athletic groups, student clubs and organizations and to the rest of the campus," Baird said. "LACRELA is one of the ways that we're imagining how it can be done."
One of Utica College's main goals is to have a more diverse, equitable and inclusive climate for all students, faculty and staff. Being participants in the program will help do just that. 
Baird said a big part of Utica College's involvement in a program of this magnitude is because of the administration's goals to promote diversity, equity and inclusion on campus.
"We have great leadership here at the college starting with President Laura Casamento," Baird said. "She allows me to do my job as I'm envisioning it to the extent that it adds value and meets the core vision and mission the college has."
Baird also said the key members of Utica College's Diversity, Equity and Inclusion Collaborative are a big part of helping the college become what he envisions it should look like, in terms of DEI.
Executive Director of Diversity, Equity and Inclusion Mark Kovacs, Communications and Community Engagement Coordinator for Diversity, Equity and Inclusion Kira Maddox, Diversity, Equity, and Inclusion Project and Program Manager Meghan Jordan and Diversity, Equity, and Inclusion Project Manager and Senior Administrative Assistant Nina Nguyen have been essential to the development of the program according to Baird.
"We want to give a shoutout to all our colleagues who have participated in LACRELA this year," Baird said.
If you are interested in learning more about LACRELA at Utica College, you can visit www.utica.edu/lacrela for more information.