Dr. Malwina Popiołek's Infodemia Fake News lecture: 'The problem is not just in Poland or America, but it is a problem all over the world'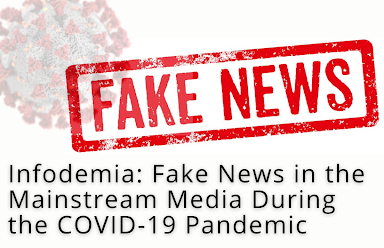 On Nov. 10, Dr. Malwina Popiołek, a visiting scholar from Poland, spoke about fake news in Poland's mainstream media during COVID-19 and explained how the media environment has changed globally. 
Popiołek's lecture was held in Macfarlane Auditorium and hosted by the Office of International Education at Utica College.
During the lecture, Popiołek presented her research of Polish fake news, disinformation and misinformation found in the media. The research, conducted by herself, Monika Hapek, a PhD student, and Dr. Marzena Barańska, all from Jagiellonian University in Kraków, Poland, examined a total of 101 pieces of false information made during the COVID-19 pandemic between January and September 2020.
At the beginning of the lecture, Popiołek explained the difference between disinformation in the media, and misinformation in the media. Popiołek said disinformation and misinformation are divided into two categories because disinformation is made on purpose, while misinformation is usually accidental/unintentional.
Out of the 101 pieces of false information examined, 26 of the pieces were from opinion-forming news media. The study also found that for the total percentage of false information published in opinion-forming news media, 25.74% of it came from the mainstream media in Poland.
According to the study, most of the fake news in Poland during 2020 came during March and April, at the time the pandemic first became prominent in the country. In terms of total false news content, among 101 false news items found, 77 (76.26%) were classified as socio-political, 13 (12.87%) as medical, 6 (5.94%) as political (local), and 5 (4.95%) as having an entertainment character.
"The whole media environment has changed," Popiołek said. "The problem is not just in Poland or America, but it is a problem all over the world."
Popiołek also said that social media is often a main source of news for journalists, which could sometimes lead to certain misinformation being published.
One thing that is used in both the United States and Poland are fact-checkers. These organizations examine and find what media is true or false, and label as such. However, even though fact-checkers are legal, Popiołek doesn't like the idea of them anymore.
"I used to think fact-checking was a good idea," Popiołek said. "But now, it gives organizations more power for censorship."
At the end of the lecture, a Q&A session began, where those in attendance asked about either the lecture itself, or made comments regarding their own research that they wanted to share with her.
"I was initially shocked," Popiołek said after someone asked her initial reaction to what she found during her research. "I think it will only get worse from here."
If you are interested in reading "Infodemia – an analysis of fake news in Polish news portals and traditional media during the Coronavirus pandemic," you can visit https://dadun.unav.edu/handle/10171/62207.