The Pioneers are going bowling after securing a winning season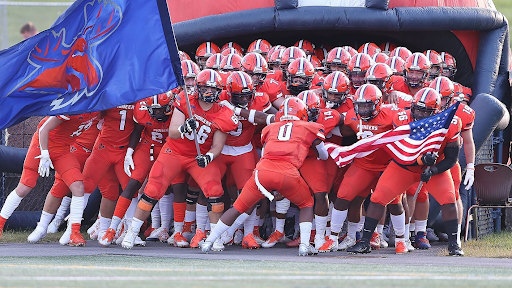 The Utica College Pioneers (6-4) football team will put an 11th game in their schedule after being selected to compete in the ECAC's Scotty Whitelaw Bowl on Saturday, Nov. 20. The Pioneers will make their fourth bowl game appearance in program history against Grove City College (7-3) with game time slated for noon.
"We're certainly excited to have our program's fourth bowl game," head coach Blaise Faggiano said. "That's quite an accomplishment and we're just so excited about that."
ECAC Bowl Games
Utica's ECAC bowl game will be one of just four in that category. Just eight teams found their way into the selection, including fellow Empire 8 foe, SUNY Brockport. Each game will be played on Nov. 20.
"It's very difficult in Division III to get to the postseason and every year it's our goal… to be able to play a week 11," Faggiano said. "These games get more and more coverage and there's Division III programs across the country going, wait a minute, what do they got going on out there? So, it's definitely a big deal that we'll play another week."
Bowl History
This will be the fourth chance the Pioneers will get to hoist a postseason trophy. Most notably, their last bowl game appearance ended with the program's first bowl game victory over Ithaca College back in 2018. This year marks three years since Utica College was victorious in the Scotty Whitelaw Bowl, 44-42. 
This appearance also marks the fourth time the program has competed in an ECAC bowl game in the last eight years. Their previous appearances occurred in both 2014 and 2016, where the Pioneers came home empty handed.
Obtaining Bowl Eligibility Against the Cardinals
Utica came off its 35-14 victory over St. John Fisher, which pushed them to their sixth victory and opened the door for bowl selection. 
Totaling a season-high 381 rushing yards, the Pioneers looked unstoppable having 5.8 yards per carry and scoring all five of their touchdowns on the ground. 
"First and foremost, you gotta love our senior captain Tim Hogan," Faggiano said. "On senior day, he really had a great day. He ran hard and made plays on special teams. So, I'm particularly happy for him."
Hogan got his first career hat trick as he found the back of the endzone three times on 112 yards rushing. James Salles continued to showcase his talents as the freshman back also ran one score in off a team-high 159 yards. Their third leading rusher with 45 yards, senior Jamarious Morgan, led the team with 9 yards per carry.
Defensively, Utica limited the Cardinals to just 197 total yards. The secondary was lockdown, allowing only 46 yards through the air on just five completions. This essentially turned Fisher's game one-dimensional. Utica College was led by Empire 8 co-defensive player of the week, graduate student Kwasi Addo, who finished his senior day with a team-high 13 tackles, including 1.5 for a loss and a timely forced fumble.
Facing Off Against Grove City
The Pioneers will be traveling to a new area to face their newest foe, Grove City College. Averaging 36.8 points per game, the Wolverines enter the game after shutting out Thiel College, 56-0. The Wolverines will look to their three-headed monster, consisting of Clayton Parrish, Nico Flati and Zach Trusky in the backfield to pull out the victory. 
"We are going to try and get on their field Friday afternoon, so the guys can get used to their site," Faggiano said. "I love that moment when we get on the bus and take our show on the road."