Commuter students allowed back into residence halls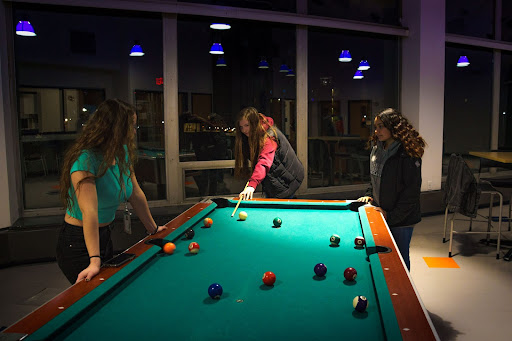 The Utica College administration has eased up on some COVID-19 restrictions in the past few weeks, which included allowing commuter students to visit students living in residence halls. 
According to Vice President for Emergency Management Shad Crowe, the difficult part of planning and enforcing COVID-19 related policies from an administrative standpoint is trying to predict where we're going to be and that is really tough.
While looking at other institutions similar to Utica College, officials look at what type of policies they're following, what their logic is behind those policies and whether we should apply them at Utica College. This depends on several factors including the number of COVID-19 cases on campus and in nearby communities, Crowe said. 
"It's tough to predict, but we've been able to pivot as you see," Crowe said. "This gradual move towards reducing these restrictions, maybe not completely lifted, but adjusted as we try to give everyone the best college experience possible, and still do our best to keep everyone safe and healthy at the same time."
There were many factors that influenced the decision to have commuters back in the residential halls. In past academic terms, Utica College experienced 25-30 active cases at a time and now cases have dropped to around 3-6. The student population vaccination rate that is approaching 96% was one of those factors.
"Every week, I get two or three more people who have been vaccinated," Crowe said. "Thus, the greater part of our community, including commuters, have been vaccinated so they have the same level of protection that others have."
Many commuter students were happy with the news allowing them back into dorm rooms, including senior Odalis Garcia, whose best friend and friends live in dorm rooms on campus. 
"I know that it was to protect the safety of others, but it made me sad knowing that I couldn't pop in to see my friends whenever I wanted," Garcia said. 
Some, however, felt that the policies were not thought out properly. 
"It shouldn't have mattered that I was a commuter student going into the dorms, either way I was going to be with the same people," senior Corinne Ciaccia said. "It also caused more issues because commuters were going into the dorms anyways but had to feel like they were doing something wrong. As a student who pays tuition, I should be allowed to go to the residence halls regardless of the fact that I drive to campus."
According to Crowe, there was no strategy or requirements specifically for commuter students to have them back in the residential halls. Students are still required to sign in when visiting and follow pre-COVID guidelines.  
"We can always return restrictions if we see a rise in our positive cases," Crowe said. "We can go back to the previous policies and safety protocols – because we can identify whatever change we made, the restriction we lifted, as the source that may have had a direct impact on those numbers."
Crowe said having commuter students back in the residential halls and interacting with friends and making connections is very important.
"It is important because friends are a reciprocal support mechanism for everyone," Crowe said. "When you are friends with people who don't reside on campus and they can come to visit you and relax with you in the residence halls, they meet and interact with people which creates networking and making new friends. There are so many benefits not just to the classroom but the social networking side of the college is just as important."
Many students, like resident assistant Amara Clemente-Johnson, say the college is doing a good job keeping the college safe. 
"While some students may not have liked the policies implemented, they were designed to keep the community safe," Clemente-Johnson said. "I do think that the decision to require masks in the residential halls and to not allow off-campus guests kept the infection rate of COVID-19 low."