Kappa Delta Phi NAS holds bake sale for suicide prevention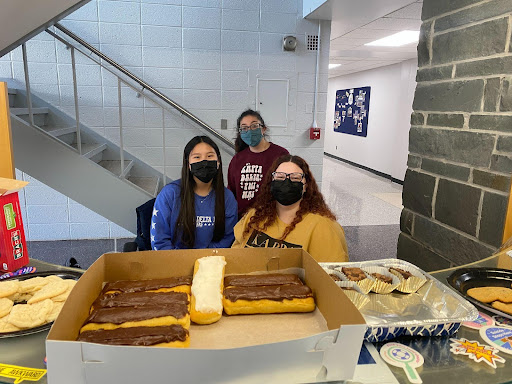 Sorority Kappa Delta Phi NAS held a bake sale on campus on Nov. 4 in order to raise money for the American Foundation for Suicide Prevention (AFSP). 
AFSP is voluntary health organization that gives those affected by suicide a nationwide community empowered by research, education and advocacy to take action against this leading cause of death, according to their website.
Suicide is prevalent in society, as it is the 10th leading cause of death in the United States. In 2019 alone, there were 1.38 million estimated suicide attempts. Overall, men have higher rates of suicide than women.
In the past, the sisters at Kappa Delta Phi NAS have worked with the Alzheimer's Association, American Cancer Society, Days for Girls, America's Greatest Heart Run and Walk and participated in spring cleanups in the Utica area. They enjoy supporting causes and raising awareness to the public about the organizations they work with. 
The sorority was originally founded through the fraternity Kappa Delta Phi. Their main goal was to follow the same ideas and values as KDP, which includes honesty, charity, generosity, leadership and integrity. The most important value that KDP NAS stands for is philanthropy.
"We are a philanthropic sorority, so we pride ourselves in raising money and awareness for causes that mean a lot to us," sophomore May Ambeau said. 
The bake sale was donation based, and those who donated received a standardized plate which they could fill up with a various array of baked goods of their choice.
President Molly Closinski said they sold cupcakes, cheesecake bars, donuts, cookies and brownies. Some of which were made by the sisters as well as some store bought desserts.
The Kappa Delta Phi NAS bake sale raised more than $250 that will be donated to the American Foundation of Suicide Prevention as the organization has been the national philanthropy of all KDP Nas chapters. 
"It was a great turnout," Closinski said.
The sorority was grateful for those who donated to an important cause that they are happy to represent.
"Being able to educate our community on causes that mean a lot to us and to help those causes by donating money is something really special," Ambeau said. "It was a very good turnout for us, and we're very thankful for everyone who donated."
The Kappa sisters took turns alternating jobs in hosting the bake sale throughout the day.
Philanthropy chair of KPD NAS Ashley Aguilar, is in charge of organizing events and fundraisers for the sorority. 
"I couldn't be more proud of all my Kappa sisters for helping out with such a successful event," Aguilar said.