New Area Coordinator on Campus: Meet Kaitie Peltz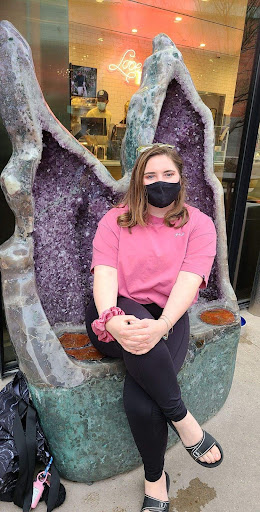 Over the summer, two new area coordinators were hired as part of the Utica College family and now oversee the residential halls. The new area coordinator for North Hall and South Hall is Kaitie Peltz, who was a former area coordinator at another college in Texas and also a former resident assistant herself. 
Peltz said that becoming an area coordinator wasn't a difficult choice to make because she enjoys helping students who need assistance.
"I wanted to be an AC, or work in higher education in general, because I really enjoy supporting students," Peltz said. "I had a few amazing mentors that supported me and I hope to pass on what I got out of those positions to the students I get to work with."
Peltz enjoys working with higher education students because not only does she want to support them, but she also wants to make sure they succeed in what they set out to do. This is true, especially when it comes to the staff of resident assistants that she supervises. 
According to Peltz, at one point she was in the resident assistants' shoes because not only was she a resident assistant during her undergraduate year, but she also went on to join the ranks of assistant resident director and above.
"I started working in residence life as a resident assistant during my undergraduate degree program," Peltz said. "I then worked as an assistant resident director my senior year of college and decided to pursue a masters degree in higher education. During my master's program, I had an assistantship as a graduate resident director. After that, my first full-time position was as an area coordinator in Texas before accepting my position here at UC."
Her resident assistant years weren't always the best because it takes a lot of hard work. However, she can still remember fun moments from when she was a resident assistant in charge of a floor in a first-year hall, Peltz said.
"My favorite memory with my residents is from my junior year," Peltz said. "I was placed with first-year students and they were obsessed with UNO. We would get very competitive and even started to get the various versions of UNO (UNO Jackpot, UNO Spin, etc.). It was a lot of fun and always made my day, even when it had been rough."
After working in Texas as an area coordinator, Peltz decided to move closer towards the tri-state area and look at colleges around there that needed an area coordinator. That's how she came across Utica College.

"I really liked the size of the college and the position overall that I decided to apply and hopefully get an interview," Peltz said, "During my interview process, I met a lot of really great people virtually, and got an overall feeling that UC was a place that I would really enjoy doing the job of an area coordinator at."
Peltz said that once the interview process was over and she got the job, she was ecstatic and couldn't wait to begin work at Utica College.
"I'm very happy with this decision, because the last three months here have been great so far," Peltz said.
Since Peltz began working at Utica College as an area coordinator, the residents and resident assistants of North and South Hall have all gotten to know her and have many positive things to say. Some resident assistants have said one of her best qualities is that she is always there for them.
"She is always here for us if we need them," said Kaden Calafranesco, a sophomore and resident assistant in North Hall. "She is willing to listen to what we have to say and will find stuff out for us.[They're also] willing to adjust for us and make accommodations if need be."
Some resident assistants also said that Peltz is someone that can definitely be relied on and also is someone that is awesome to work for.
"Kaitie is a fantastic person and I really enjoy working under and with her," said Katelyn Calkins, a senior and third-year resident assistant in North Hall. "Kaitie understands you are a person first, student second, and then an RA third. She has a lot of experience in Res Life and she is a great resource on campus. Kaitie Peltz is absolutely a great hire for the AC position in the first year buildings."