Believe Bowl: No One Fights Alone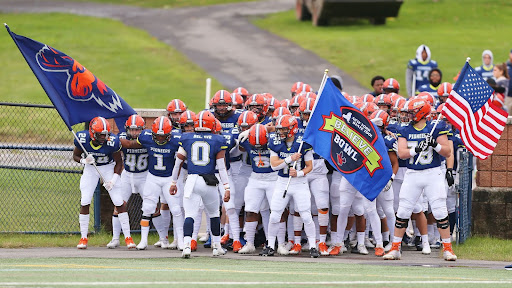 The Utica College football team joined the Believe 271 Foundation on Oct. 30 for their fourth annual New York State Tool Believe Bowl against Morrisville State College. 
The Pioneers went on to defeat the Morrisville Mustangs 20-3, to improve to 3-1 all-time in the Believe Bowl. However, the final score wasn't as important as the cause.
This game, unlike any other, had nothing to do with the final score, the players, or the coaches, but everything to do with the Believe 271 Foundation and its purpose. 
Thousands of firefighters are killed by fires each year in the United States, but few consider the after effects the brave volunteers face from toxic fumes. 
Former volunteer firefighter, cancer-survivor and UC's community outreach coach Brian McQueen- 271 being his badge number at the time of diagnosis- co-founded the Believe 271 Foundation in 2014.
McQueen recognized that he wasn't alone in his diagnosis. He is indeed far from it, as 62% of firefighters will eventually be diagnosed with some form of cancer, and so he didn't want any one of them to feel alone in their fight. 
In the eight years since the foundation opened, 71 volunteer firefighters and cancer patients have been provided $302,250 to support their treatment. 
"With the financial support comes emotional support, letting our heroes know that 'No One Fights Alone,'" McQueen said. 
At this year's Believe Bowl, players repped Believe Bowl jerseys matching the blue and neon green of the foundation with "BELIEVE" in bolded letters across each of their backs. 
The players got to keep their jerseys for themselves this year. This along with a little black wristband with a matching green "BELIEVE" for them to be reminded that the word means more than just another football game. 
"When you get knocked down," McQueen said. "Look at your wristband…and remember there are others going through much harder challenges. So they get up, rise to the occasion, and rebound like a pioneer would do."
This year, the Pioneers battled for local heroes Gabe Strief and Kelby Ueltschi. 
Strief was a volunteer firefighter for 43 years, who was diagnosed with prostate cancer in 2017 and more recently with stage four Pancreatic cancer in January 2020. 
Ueltschi was diagnosed with stage four Nodular Hodgkin's Lymphoma at the young age of 30, back in November 2019.
Both men received their own jerseys and were named honorary captains for the game on Oct. 30. 
Moreover, the foundation honored several members of the Utica College staff by providing them with their own jersey as well. This included President Laura Casamento, as her husband currently battles cancer, Athletic Director Dave Fontaine, as he just beat cancer last summer, Director of Sports Information Laurel Simer, a survivor of childhood cancer, and coach and alumnus Bob Jones, who is currently battling cancer. 
The Pioneers also raised $2,000 for both the American Cancer Society and Believe 271 Foundation from donations and sales during homecoming weekend.  
The Thea Bowman House is another important organization represented by the Believe 271 Foundation and the children of the house, likewise, have their part in the Believe Bowl.
Normally, they would attend the game but due to COVID-19 restrictions, they could only attend Friday's practice the day before. 
"Two of their young men spent Thursday's practice with the guys receiving their own Believe Bowl jerseys and had as much fun with the players as possible," football head coach Blaise Faggiano said.
Saturday's game against Morrisville was so much more than a football game to many. 
"What does this game mean to me? It means the world to me," McQueen said. "Being a cancer survivor and having this game recognized and those people [recognized], it means the world to me." 
The Pioneers have faced three different opponents in the four years of playing the Believe Bowl. The three schools the Pioneers faced were Ithaca College in 2017, St. John Fisher in 2018 and 2019 and SUNY Morrisville in 2021. 
Faggiano said it's just another way to raise awareness for the foundation and the firefighters. 
"I can't help but think of the word family," he said. "The football program…we break on family, the Utica College family. This place really is family."