Spring 2022 registration begins next week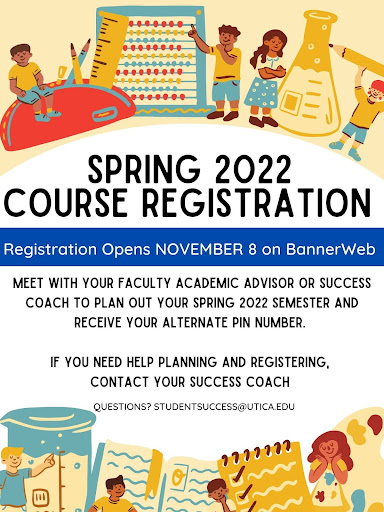 Course registration for the Spring 2022 semester will start opening for students on Monday, Nov. 8 on BannerWeb.
Students must meet with their assigned faculty academic advisor or success coach to plan classes and receive the pin number and time for online registration.
Both faculty academic advisors and success coaches are listed on BannerWeb. This can be accessed through the Student Account button found in the Student Services section.
If a student is curious about the classes they need to take for their degree, BannerWeb offers a Degree Evaluation that lists all finished credits and required courses. A Degree Evaluation can be requested through the Degree Evaluation button in the Student Records section. Towards the bottom of the screen, students can press "Generate New Evaluation" to receive a new Degree Evaluation to discuss with their advisors.
Students are encouraged to log into BannerWeb and view available courses through the Look Up Classes button. Course descriptions are available online through the Utica College catalog website.
Before students can register on the designated date, they need to check if there are any holds on their account. Holds on an account, which can include overdue payments, may prevent registration from going through.
Students are able to check the status of their account through the Registration Status area of BannerWeb, according to the registrar's webpage.
The registration portal for on-ground undergraduate students will open first to seniors on Monday morning. Shortly after, registration priority is given that afternoon to: learning services students, honors, EMS, pre-med and athletes on the roster for next semester sports.
The juniors, sophomores and freshmen will register for classes throughout the rest of the week at their designated times.
The registration window on BannerWeb is listed as the end of the add/drop period of next semester. However, it is not advisable to wait until the last day to register for classes because you will not get the classes you need, according to Associate Provost Robert Halliday.
"For students to get registered for all their full-time classes as soon as possible helps the college and the student," Halliday said. Any questions can be directed to the Office of Student Success at [email protected].