Q and A with Coach Blaise Faggiano: Red Dragons Dominate Pioneers/Believe Bowl Preview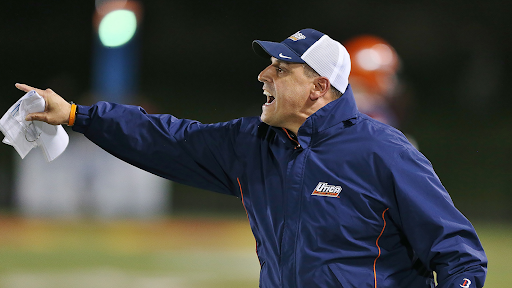 Q: This game didn't go in favor of the Pioneers falling 45-0. What were your overall thoughts on how your team performed?
A: Well first, I want to give credit to Cortland. They have a well coached, very good football team that certainly put themselves in a good position to be conference champs. I'd be very surprised if they weren't. And definitely, having watched the film, give them the edge in that big game they'll finish their season with. Definitely want to give them some credit. On the other hand, we continue to make mistakes that really cost us. If you're on the road and you're playing a very good team, you can't do that. We can't turn the ball over four times and get behind like we did so quickly and recover. And like, we've done that in other games where we've been behind 14-3, we've been behind 17-0 against Brockport and then we come back and give ourselves a chance. But it's very difficult to do that and we continue to do that. So I think the turnovers combined with just us not getting off the field on third down on defense. We only forced one punt. We had some assignment mistakes on defense more than we've had in any other game, so that's on us that we can certainly fix, along with some miss tackles. We play better and it's not 45-0. So, very unfortunate that it went the way it did, but we'll certainly learn from that game.
Q: Defensively, Devin Bryant grabbed his fourth interception on the season, which ties him for second in the E8. What has it been like having a ballhawk like on the roster this season, especially with him coming back for his 5th year?
A: It's great to have Devin there. This is Devin's first time playing football for us. The last time he played football, he got to play special teams in the bowl game against Ithaca. First, he tore his ACL and missed a year. Then he broke his toe and missed the whole season. So it's been great to have him playing for us. A local guy from Rome Free Academy. Initially, he went out to Mount Union and didn't like it. We're glad he transferred back and we're glad he extended his four year education, which a lot of our guys have done so that he can play football for us. And so he's having a great year. 
Q: Coming up this week, you have the Believe Bowl against Morrisville on Halloween weekend. Can you elaborate what this cause is and why you dedicate this game to it?
A: The New York State Tool Believe Bowl first and foremost promotes the Believe 271 Foundation, which was founded by Brian McQueen and some of his fellow volunteer firefighters. Initially, they wanted to raise some money to help Brian with his cancers in the esophagus due to his services as a volunteer fireman. And Brian was our community outreach coach here at UC. He wanted to go to other families. And so they had this foundation where they hit their $300,000 mark, as far as funds that they've given to families that are battling cancer. They do fire education for volunteer firefighters. So, we'll have two honorary captains that will meet Thursday at a press conference at 11:30, over at the Cynkus Family Welcome Center. We're just doing a small press conference this year, as opposed to a luncheon. We'll announce our honorary captains. The Believe 271 also helps support the kids at the Thea Bowman House. They're not going to be able to be involved as much this year because of COVID-19 restrictions. But two of their young men will be at a practice and we're going to present them with some football jerseys and talk to them because it's outside and safe and they can have masks on. They're not going to be at the game, like in years past. You know, we won't have the tent in the end zone. It's a game that our guys really appreciate. We will have the folks at practice Friday, our honoree captains that are fighting cancer and it allows us to raise awareness for the foundation. It allows people to donate to this great foundation. It's really a good way for us to get back to the community. It's never the same team. It's just kind of based on schedules. So this year, it's against Morrisville, and you know we're excited. We've adjusted our trophy. There's a Believe Bowl football that will go to the winning team. We've got helmet stickers for the teams and hats for the coaches. Each year this kind of game is continuing to gain momentum. It's our Fourth Annual, and we're looking forward to it.
Q: Outside of all the emotions off the field, your team still has an important Empire 8 game against Morrisville on the field. How are you going to be preparing for this upcoming game?
A: Morrisville is a well coached team. They know they beat us the last three years in a row is the truth. And our guys know that and remember, and we're not really happy about that. So we gotta work hard this week and get our game plans in. The record doesn't show it but they are a lot better football team. They played Alfred really tough right now, who's just like us kind of fighting to see where we're going to be at the end of this. So these last three weeks are critical for all the Empire 8 teams. Who's going to have winning seasons? Who's going to go to the postseason and then take that momentum into the offseason is big. I think there's something to be said for that. There's momentum during your season and then there's the momentum at the end. I know that you look at our recruits now that you know, talking to John Stroughn today and Darrell Savage, those guys came in after we beat Ithaca in the bowl game. That kind of momentum helps in recruiting. Coach Rogers is using two quarterbacks and they have a massive offensive line. He does a good job of distributing the ball there. So, we'll have our work cut out for us.