Enrollment rates at Utica College suffer significant and unexpected decrease for Fall 2021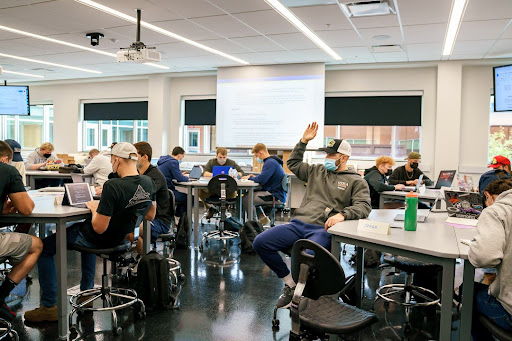 Utica College has experienced a 7.95% decrease in enrollment for the Fall 2021 semester after initially expecting no decrease, according to updated statistics with D1 freeze information from the Office of Institutional Effectiveness.
The most recent statistics, which are from Sept. 17, show the total enrollment for Utica College decreasing from 4,614 students in the Fall 2020 semester, to 4,247 students in the Fall 2021 semester. However, the college projects that the D2 freeze statistics will show a total 6.8% decrease.
The D1 statistics provided include numbers from the first eight weeks of the semester, while the D2 statistics will show the numbers during the second half of the semester.
According to the Aug. 20 President's Cabinet minutes, the college did not budget for an enrollment decline in the Fall 2021 semester. Now, after numerous cuts in the budget and funding to various programs, the college has had to significantly reduce spending.
Karen Ferrer-Muniz, associate vice president of Enrollment Management and new interim Dean of Students, said since the college has lost more students than expected, the message from administration was that "we need to be very conservative in what we're doing and what we're using."
"Based on needs and priorities, we are trying to consult very diligently so we can be very cautious and very responsible for what we are spending this year," Ferrer-Muniz said.  
A decrease in enrollment at Utica College is due to multiple factors, including athletics. The NCAA granted athletes an extra year of eligibility due to the pandemic, and this interferes with the college's athletic roster management plan.
Senior Vice President for Student Life and Enrollment Management Jeffery Gates said every sport at Utica College has a specific roster goal, and due to the extra year of eligibility for current athletes, the college didn't get to fill those specific spots with incoming freshmen. Instead, they were filled by graduate students and this was a contributing factor to the overall decrease in enrollment.
"What happens every year is students usually graduate at the end of their four or five years and then we replenish some of those roster spots with new first-year students," Gates said. "For Utica, since we have so many sports teams, we have 50 student-athletes who have an extra year of playing eligibility. That means we have 50 fewer students that we need on athletic teams, so there are 50 new students that we don't need."
The coronavirus pandemic is another reason Utica College, and other colleges, have experienced an enrollment decrease. According to Gates, after Utica College no longer provided the option for undergraduate and main campus students to take hybrid or online courses, more than one-third of those students decided not to return.
"We had over 450 students who took Fall 2020 and Spring 2021 courses online that were either ground campus students or main undergraduate students," Gates said. "We heard from students that they wanted a full in-person experience, so we didn't offer the option for students to be hybrid or online. We ended up having 159 students decide not to return because they didn't have the options they had the prior two semesters."
Gates added that the college made the decision to not offer online or hybrid courses even before the Delta Variant became prominent.
"We made the decision late in the Spring when COVID-19 was on the decline and things were going very well," he said. "I do believe that if we had a hybrid option, many of those students would have come back."
Utica College isn't the only school in the area that has experienced a sharp decline in enrollment. According to an article from rochesterfirst.com, an overwhelming majority of SUNY schools have had declines in enrollment in the past year. Some of these school's enrollment rates include:
SUNY Brockport (-7.3%)

SUNY Oneonta (-12.7%)

SUNY Poly (-4.7%)

SUNY Potsdam (-14.2%)
Since the steep enrollment decline caught the college off guard, they are doing their best to make sure it doesn't happen again. Despite the conservative spending, the college still considers the enrollment rates one of its main priorities. Now that more campuses are open for in-person activities, the college has been sending more recruiters to schools, and this will help reach more students and hopefully increase enrollment for the upcoming semesters, according to Ferrer-Muniz.
With in-person events now happening, this gives the college an opportunity to showcase the campus to everyone in a non-virtual way. Ferrer-Muniz said now that the college is back to doing the in-person events, instead of hundreds of virtual events, it will help embrace what the college is about. 
"The full year we were not able to see people face-to-face hurt us a little bit," Ferrer-Muniz said. "Since Utica College is a very family, parent, student oriented school, it will help us now that families are allowed back on campus to visit with the potential students."
Although the enrollment rates have declined, the college believes it will pick back up soon.
"I personally think that there is no better choice for a student coming out of high school than to come to Utica College," Gates said. "Utica has the lowest price tuition for private institutions in the Northeast, you can have a book bundle, an iPad, a four-year graduation guarantee and a care team that is focused on you and your success. What are we missing?"