Team IMPACT and UCWS names Arianna LaBella as newest member and honorary team captain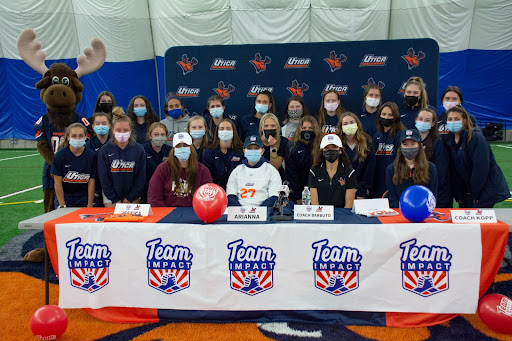 Donned in her jersey and hat, 12-year-old local Arianna LaBella, who was diagnosed with Ewing's Sarcoma bone cancer in July 2019, signed her letter of intent on Oct. 18, as she was surrounded by her family and newest teammates of the women's soccer team. 
It's not often you hear of a middle schooler signing onto a collegiate sports team, but thanks to Utica College's partnership with Team IMPACT,  LaBella found herself drafted and the team found themselves a way to propel their program to the next level. 
The nationally recognized Team IMPACT program is a non-profit group that works to combat the emotional trauma and social isolation experienced by children facing serious and chronic illnesses by matching them with a college athletic team. LaBella becomes the 4th Team IMPACT member to sign with the Pioneers, and the second active member (Kian Demkowitch with men's basketball) to sign. 
Now that she's drafted, LaBella will participate in a two-year therapeutic program specialized for her medical needs while developing relationships and skills she wouldn't usually have the opportunity to experience.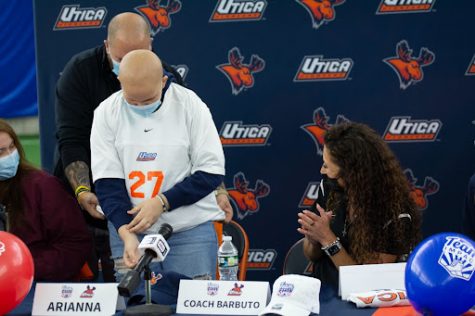 The bonds she'll make and abilities she'll learn from the women's soccer team will, for once, take the emphasis away from her diagnosis and rather ensure that LaBella receives a full circle of healing- that is, continued attention to her mental and social health as well. 
In her first year on the team, Zoom calls, messaging and social media was their form of connection, but this meant more than anyone could expect to the LaBella family and soccer family alike.
"It's a lot of hospital time, a lot of expenses,  a lot of missed school… so having the girls give her someone to talk to that's not nurses, adults, doctors, and mom or dad is great." Arianna's mother Jessis LaBella said. "It gives her the opportunity to open up, have fun and be a kid."
Her father, Robert LaBella, echoed much of the same, elated by how his daughter's state of mind has changed since joining the team last year. 
"It plays a huge factor because when you're down and then you finally have somebody help you build you up, it's just amazing for her," Robert LaBella said.
Graduate Student teammate Jacinta Kaminski couldn't be prouder of the program for stepping in to make such a huge impact in a young girl's life. Even yet, she knows that LaBella has done just as much for the team as the team has done for her.
"She definitely has brought our team closer together… when we're on Zoom with her, we find out more about each other that way," Kaminski said. "It's another form of team bonding and it gives us something else that we're all motivated to work for."
This bond created off the field has shown to be a huge factor in the team's season thus far, and LaBella's role in their success seems just as important as any other member of the team.
"Even on the field it's 'let's play for Arianna today' and that just brings us so close," Kaminski said. 
In her first year, LaBella wasn't allowed to be with the team in person or have an official signing day due to COVID-19. This year however, she will rep No. 27 at every game she's able to attend, standing in as the honorary team captain. 
Her father ensured that she will be on the sidelines as much as she can.
"Support the family that supports you," Robert LaBella said.