Le Bistro cafe open again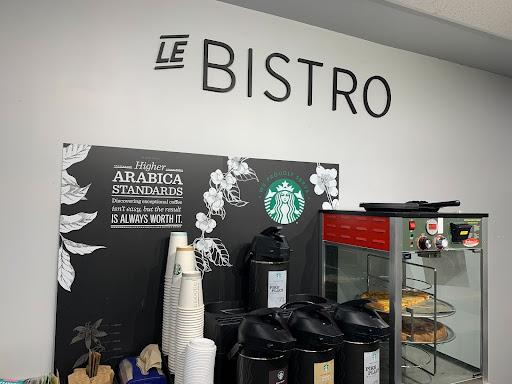 Nestled in a quiet corner of the Gordon Science Center, there is a spot where Utica College students can go to grab a quick bite or cup of coffee while studying. After being closed last year due to COVID-19, Le Bistro is finally open for business once again. 
Le Bistro is a small café found on the lower floor of the Gordon Science Center that is open Monday through Thursday from 8 a.m. to 8 p.m. and Friday from 8 a.m. to 2 p.m. for students to stop at and get food, snacks, cold drinks and coffee. 
Since opening back up, Le Bistro has not had as steady a flow of customers as it did pre-COVID times. But as more days pass and more people realize it is opened back up, the flow has increased.
"It has been pretty slow this semester as a lot of people haven't realized we are open again," barista Nicole Forbes said. "I have had students walk by and stop to say they didn't realize we were back."
Forbes also said that word of mouth has been the main way people on campus are realizing they have opened back up for business this semester. 
Fresh every day, tomato pie and different baked goods, such as half-moons are available and are provided by the local bakery Holland Farms. There are also a variety of sandwiches, salads, sushi, wraps and yogurts to choose from which are provided by York Street Market. In the mornings, students can also get a hot breakfast or bagels until 11 a.m. 
The café features coolers with bottled drinks for something quick and on the go, but also provides a variety of Starbucks drinks and coffees for students as well. Some of the options include caramel macchiatos, café mochas, café lattes and iced coffees.
For lunch, there are always two different soup options to choose from on top of the other food choices provided. The soups of the day can always be found on the Utica dining menu, which updates daily. 
"The Thursday soups are chicken tortilla and broccoli," Forbes said. "Everyone loves the chicken soup so Thursday is usually our busiest day."
She explained some of the features that make the café an easy spot to grab a bite, such as the use of multiple payment methods including student flex cards, as well as explaining the coffee card program that they have. 
For those coffee lovers on campus, you can get a coffee punch card provided by Le Bistro that can be used there or at Common Grounds located in the library. Students can take a card and get it punched with every coffee they get. After nine punches, you get a free coffee from either of the locations.
Students should keep an eye open for seasonal coffee flavors which may be coming to Le Bistro in the next few months as well, such as pumpkin mocha and crème brulée.