Q and A with Coach Blaise Faggiano: Pioneers fall to SUNY Brockport for first Empire 8 loss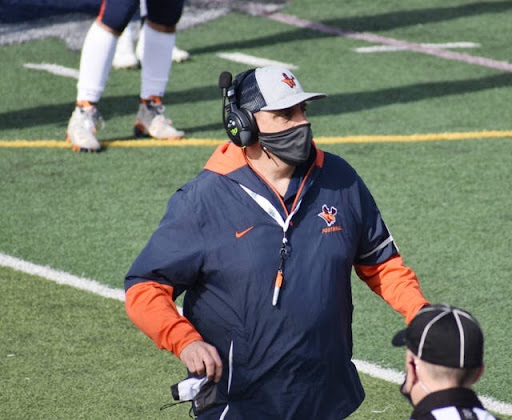 The Utica College Pioneers fell to SUNY Brockport 26-14 for their first Empire 8 loss on the season. Sitting at 4-2 (1-1 E8), the Pioneers held close with the Golden Eagles until the fourth quarter. Going scoreless in the first half, the Pioneers mounted a 14-point comeback to make the score 17-14 with 13:50 remaining in the fourth. From there, it was a Pioneers nightmare as they allowed nine points to be scored by Brockport, resulting in the loss.
Blaise Faggiano, the head coach of the Pioneers, said that this loss hurts a little differently. He continues to be impressed by his team's ability to never quit, but says that this win should have been theirs. For Faggiano, an insatiable hunger was instilled after this loss that he hopes to satisfy as they prepare for their upcoming matchup against nationally ranked No. 17 SUNY Cortland this Saturday, Oct. 23.
Q: The Pioneers fell to 4-2, but this was obviously an emotional game being back home for you. How was the experience after not being able to play them last season?
A: I tell you what, we were very confident going into the game that we could win the game. You can tell from the way that our guys played as far as physical play and the ability to make plays that our guys certainly were very capable of winning the game. When you get into the nuts and bolts of the game, and again today, the guys are probably pretty upset. And they should be because they know how good of a football team we are. We gave them six more possessions to have the football on offense, six more you know, three more special teams errors, three more turnovers and you can't do that. I mean they literally, on most of their scores, started the ball inside our 20 yard line. You can't do that on the road. I gotta tell you like you watch the film and you see how physical our guys were and you definitely can tell that we're a different team than a couple years back. You can tell our guys were working hard in the weight room. We've been working hard, recruiting, and our guys shouldn't be upset. They know that we're a good football team and holy cow I mean, everything being said, it's 17-14 in the fourth quarter…17-14 in the fourth quarter. That's a tough one today. Hartwick's one thing. We got on a hard week. It's an ugly place to play. We find a way to win. We win or lose, this one definitely gets at the guys because they know where we're at. They know what we're working toward. You certainly can see it from the film that a lot of guys showed up to play.
Q: Sonny Badyna was trying to will this team to victory accounting for the second touchdown with his feet. What was his attitude like through this game?
A: Sony is a very even keeled guy. And I tell you what, like no backing down for Brockport's defense. It is one of the top defenses in our conference for sure. He's running the football between the tackles, throwing the ball and he took some hits as he was throwing the ball. He's a tough kid and continues to be a strong leader for us. We had a great week of practice and he spoke to the team on Thursday and did a great job talking to the team about what the program means to him and what being a Pioneer means to him. He went out there and left it all on the line.
Q: Kwasi Addo led the team defensively totaling 15 tackles. How do you think he played in this game and how important is it to have a guy like him taking that extra year of eligibility?
A: Oh that's huge. So glad he did that. His leadership and his intensity. When we do self service in practices, he's the scout team quarterback. He's just a great leader and played a great game. I think back-to-back years he's had 15 tackles in this game, but what's hard about this year is that we were like right there. Here we are playing Brockport, the defending conference champion, 17-14, and got a chance to win it. So, I think that'll be tough and when I talked to him today I was like 'guy, we can't give another team six more opportunities to have the football.' I'm going to show them a 14 play cut-up with us making great plays and mainly focus on the positives of the game.
Q: Cortland's a team top of the E8 in yards with 411 per game and second in defense allowing only 198.5 per game. How will you guys look to get on the board against this defense? 
A: I think our defense is strong and our offense has the ability to make plays. You just got to go play UC football and get back. I think that's the one thing that was uncharacteristic about this game. You can't look back at Union and say we gave them the ball six more times right? Like, that was a problem there. That's what we got to clean up. We need to be able to protect the football and not give them the ball on the 20 yard line or two yard line. I think that's going to be key and if we're able to get back to smart football and protecting the football and controlling the football, then we put ourselves in position to win and that's all I think all you can do. To put yourself in position to win. I'm always big that it comes down to field position and special teams. It's like when we blocked the punt and we got a kick return for a touchdown. I'm thinking that's going to swing the other way. Right? Special teams are gonna win us some games. There's some good lessons to learn from it for sure.