Op-Ed: Bubba Wallace's NASCAR Cup Series win brings joy during trying times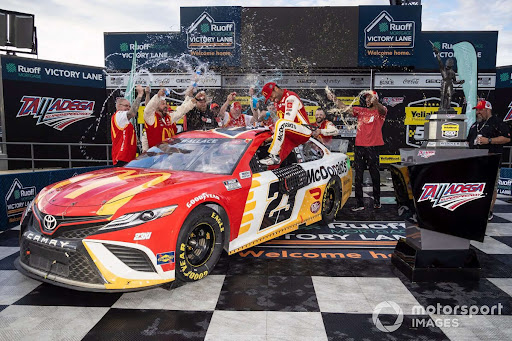 On Monday, Oct. 4, Darrell "Bubba" Wallace Jr. earned his first career win in the NASCAR Cup Series at Talladega Superspeedway in Alabama. The significance of this win for Bubba was unlike any other.
When NASCAR called the race due to rain, Bubba officially joined the late NASCAR Hall of Famer Wendell Scott as one of the only two African American winners in NASCAR Cup Series history. Wendell won almost 58 years ago, on Dec. 1, 1963, which happened to be 21,128 days before Bubba did. 
Seeing and hearing the emotion when Bubba found out he was a NASCAR Cup Series winner at his home track filled me with so much joy that you would have thought I was in the #23 McDonald's Camry on race day.
"No way… no way," Bubba shouted with excitement as NASCAR officials declared him the winner. "Yeah! Let's go!"
I'll admit that the past few weeks for me have been awful mentally, but seeing my favorite driver – Bubba Wallace – win made me feel a sense of happiness that I'd almost forgotten. It just goes to show how significant of an impact sports can have on someone. 
Anyway, the reason why I felt so overwhelmed with joy was because Bubba has been through a lot over the past couple of years.
To start, at Talladega Superspeedway in 2020, NASCAR told Bubba that they discovered a noose in his garage stall. Since Bubba is the only African American driver in NASCAR's Cup Series, NASCAR officials immediately alerted Bubba and his team that it was possible he was the subject of a hate crime. 
Bubba helped get the Confederate flag banned from NASCAR less than two weeks prior, and being in Alabama, where the flag is prominent, it seemed like NASCAR had a legitimate reason behind their beliefs. 
The FBI found that the noose tied in Bubba's stall had been there since 2019 and he was not the subject of a hate crime. This was obviously great news, but the mental effect it had on Bubba definitely took a toll on him. Seeing NASCAR stand with Bubba and support him during these difficult times and seeing the entire garage rally for him made my love for the sport grow even more.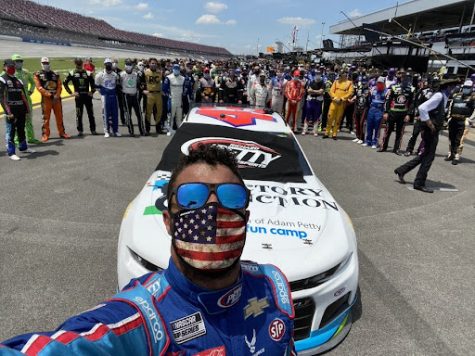 The reason I bring this up was because when Wendell Scott won back in 1963, he didn't get his trophy like Bubba did. NASCAR declared Buck Baker, a white driver, the winner instead of Scott even though Scott clearly won. This was because race officials didn't want to see a Black driver celebrate his win. NASCAR finally overturned the results two hours later and declared him the winner, but he never got the trophy.
In fact, the Wendell Scott family didn't receive the trophy he earned until NASCAR presented a custom trophy to them on Aug. 28, 2021, the day before what would have been Scott's 100th birthday. 
Whether you want to involve race in this or not, it is incredibly important to highlight that Bubba Wallace made history by becoming only the second African American driver in NASCAR history to win a race at the Cup Series level.
Unlike Wendell, Bubba got to celebrate in victory lane with his crew. It goes to show how far NASCAR has come in 60 years.
Bubba's victory at Talladega also ended a bunch of made up curses in NASCAR. To start, this win for Bubba marked McDonald's first win in NASCAR since 1994, while also being the first time since 1954 where the No. 23 car made it to victory lane.
McDonald's was so happy to see Bubba win that they changed their social media accounts to essentially show everyone who he is. For example, McDonald's Twitter account was changed to say "Bubba Wallace stan account," their profile picture to Bubba, their cover photo to a McDonald's logo saying "Bu bba ba ba ba," and pinning a tweet that says "can't spell @BubbaWallace without the W."
To be honest, I don't think this win could have come at a more perfect time for 23XI Racing. Facebook was down on Oct. 4 and that is usually where Boomers go to trash Bubba. I will admit that seeing Bubba haters angry when he won added to my overwhelming joy.
On a serious note, watching Bubba celebrate his victory with his friends, family and crew members is something I'll never forget. As cliché as that sounds, the indescribable amount of joy I felt witnessing history will always stick with me.
During his post race interview, Bubba broke down in tears explaining how important the win was to him. In doing so, he left a message for future generations to come.
 "This is for all the kids out there that want to have an opportunity and whatever they want to achieve, and be the best at what they want to do," Bubba said. "You're going to go through a lot of bullshit, but you always got to stick true to your path and not let the nonsense get to you."
He finished his statement by saying "Stay strong. Stay humble. Stay hungry. [There have] been plenty of times when I wanted to give up and when you surround yourself with the right people, it's moments like this you'll appreciate."
As someone who hopes to work in NASCAR media someday, this victory reminded me about how much I truly love this sport. The excitement it gives me every weekend really helps me look forward to other things I have going on.
For so long, I've had to tell people my favorite driver will win someday. You just have to be patient. Now, I can proudly say my favorite driver made one of his dreams come true in becoming a winner in the NASCAR Cup Series.
To Darrell Wallace Jr., I'd like to congratulate you on making history. You are truly an inspiration to many and I hope to see many more victories and celebrations.