Students on mask enforcement and COVID-19: The college preventing virus at all costs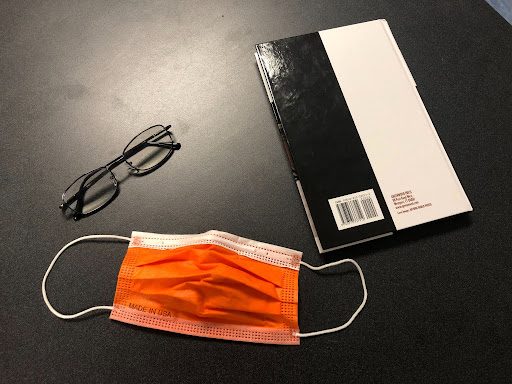 Campus Safety started taking action this week against students who don't comply with the college's mask policy, which is a needed development according to some students. 
The announcement, made in a campus-wide email on Oct. 5, explained that campus safety officers would be stationed in buildings around campus to address students who are not wearing masks properly or are without a mask.
"Until this concern is adequately addressed, Campus Safety will continue to have a
high visibility presence in all buildings," according to the statement from Shad Crowe, vice president for Emergency Management.
For the most part, students say the college is being proactive in keeping the campus safe. 
"It's important for campus safety to start cracking down if people aren't following the mask policy," said Alexis Chrysler, a junior majoring in animal behavior. "There should be consequences."
Sammet Braun, a senior biology major, said students have a role to play and that includes following rules and wearing masks during a pandemic. 
"I'm glad to see that the campus is taking this stuff seriously, but the fact that it even became an issue is what is most bothersome," Braun said. 
One area the college could improve upon is bringing students up to date on current COVID-19 cases on campus. Chrysler said despite most of the campus being vaccinated against the virus, the college has eased up too much in regards to communication. She feels left in the dark without the frequent updates the college used to provide. 
"We used to get weekly emails of positive cases and I have only received emails about positive cases if I was in a class with that person," Chrysler said. "I talked to other students about this and they assumed since we stopped getting weekly emails that we didn't have any positive cases, which isn't true."
While students like Chrysler believe more could be done to keep students informed, others believe the college is doing a fine job with the measures they have put in place, especially when it comes to the push to use single-use items, such as plastic utensils.
"I think the college's push to use single-use items makes a real difference against COVID-19 because it is vital to help curb the spread of the virus," said Connor Canell, a sophomore health and wellness major. "If a person who unknowingly has COVID-19 uses paper or plastic materials, they get thrown away never to be handled by anyone else while the virus is living."
Canell said one of the most useful tools the college provides is information on its website that outlines the policies and protective measures put in place to prevent COVID-19 from spreading on campus and to prevent it from coming onto campus from the community.
Small efforts matter and it is important to remember the pandemic is not over, Braun said.
"While we may have a low rate here at school, we are still very much in a pandemic," he said. "These small actions are the reason why we have low rates. If we can do anything to help slow down this spread, I think we should all do our part and hope that others will follow in our footsteps."
He added: " I think that these single-use items can help at least slow down the spread of this virus," Braun said. "It may not be a huge thing to most, but every small effort counts to help. A small change can make a huge impact.