Hispanic Heritage Month celebrated at Utica College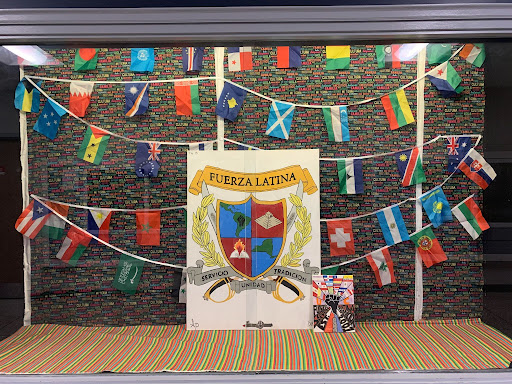 Hispanic Heritage Month, which runs from Sept. 15 to Oct. 15, gives students across the Utica College campus a chance to share and learn about the different aspects of Hispanic culture.
The celebration started in 1968 as a week-long celebration but was later changed to a whole month of festivities in 1988. The goal is to celebrate and recognize the achievements and contributions of Hispanic American people who have helped inspire people around them to be successful.
Sept. 15 is significant to several Latin American countries because it is the anniversary of independence for Costa Rica, El Salvador, Guatemala, Honduras and Nicaragua, according to the National Hispanic American Heritage Website.
Several different activities took place on campus and online recently that students could participate in. The office of Diversity, Equity and Inclusion is also hosting free Latin dance lessons from 5:30 – 8:30 p.m. on Thursday, Oct. 7 in Wilcox Center Lobby.
Events on campus started on Sept. 2 and continued throughout the week, with the first being Baila con Fuerza. Students learned how to dance to specific types of music such as Merengue and Salsa.
"A good amount of people came," Fuerza Latina member Crystal Santiago Cora said. "Obviously people want to try the foods and learn the dances. This month gives people a better understanding of the different cultures."
Cora also attended Caftería Night, where she ate a variety of Hispanic foods including rice, plantains and flan for dessert.
Several other students participated in the Hispanic Heritage Month celebrations at UC.
Junior Jessilyn Pereira said that she enjoys Hispanic Heritage Month because it gives her the opportunity to share her culture with other people. 
"I plan on celebrating by eating food from home and dancing to Spanish music," Pereira said. "It's more fun to do when everyone else is doing it with you."
Fuerza Latina President Gabriela Santos attended a gender swap forum hosted on Tuesday, Sept. 21, where participants could swap genders to help learn about the advantages and disadvantages that people face in different cultures. The goal was to use this as a way to show people the evolution of roles in society that may be different from the ones they are used to. 
"It's a month for education of the past and culture in the community," Santos said.
A board in Strebel was decorated by Santos and friends in honor of the month. The board displays several flags from Hispanic nations.
Upcoming events to celebrate Hispanic heritage month will stretch into November with the possibility of more dance lessons coming to campus. Fuerza Latina also has other possible events in the works to keep an eye out for over the next few weeks. 
Additionally, the DEI book club will be continuing to put an emphasis on Latin American stories, by reading "The Book of Unknown Americans" by Cristina Henriquez. The college will also partner with the Mohawk Valley Latino Association while reading the novel to help provide toys and gifts for its annual toy drive. For more information, students can go to the DEI book club page on the UC website. 
"Hispanic Heritage Month is important because it allows people to not just celebrate their heritage, but to share it with others," said Pereira