Q and A with Coach Faggiano: Tough First Loss of the Season against #12 Union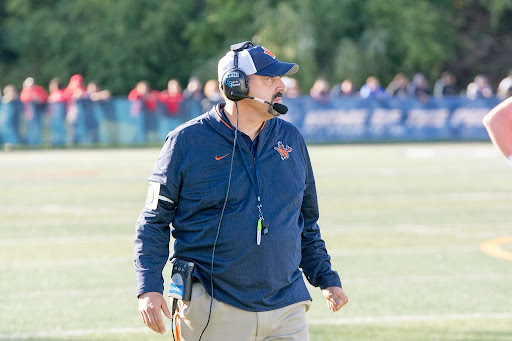 The Utica College Pioneers fell for the first time this season on Saturday after a tough 30-9 loss at the hands of #12 ranked Union College Dutchmen. This chapter closes out the Pioneers non conference play at 3-1, having played both defending Liberty League and Coastal Commonwealth Conference Champions.
Blaise Faggiano, head coach of the Pioneers football team, was frustrated with the end result, but believed that the score didn't accurately reflect how the game was played. Regardless, he believes that this game has prepared them for Empire 8 conference play that begins at Hartwick next Saturday, Oct. 2.
Q: What is it like on Sunday and even Mondays after a tough loss? How do you guys handle that as a coaching staff while encouraging your players as they prepare for next week?
A: Here's the good and bad of the schedule. We've changed our schedule this year for what I really feel is for the better. The guys are off Sundays so our Junior Varsity plays on Sundays. Now, we have more time to watch film as a staff all day Sunday and Monday. Then, we bring the guys on Monday afternoon to watch Saturday's film and to have a light practice. The negative is that it takes us a little longer to put this game behind us. But as far as the staff, film preparation and game planning it's been much better and the players enjoy having Sundays off. They want to spend time with their family, or they want to go to a Bills game or a Giants game then they can go do those things. Our training rooms have been open, so they go get treatment, but it's pretty much off Sunday. What's great about this group is they're very dialed into football. By the time we watch the film with them in the afternoon, they've all watched the film. They have a pretty good idea on what they did well and what they need to work on. I have a pretty good pulse on this team and after Western New England, where we won the game, they were excited but it wasn't like we won the Super Bowl. We expected to win and after Union, you know we were certainly disappointed, but they weren't totally crushed because they knew that they were a really good team. Talking with just a few of the players, it's a consensus that there were just some missed opportunities on our end. [Union's] a good solid team, but I think it shows you where Utica College football stands nationally. That game was 14-9 for way too long. Credit to our defense and our team. We just needed a play or two to go our way to get that momentum. We're going to definitely be a better program from the Union game. That would have been true win or loss because they're a well coached team. 
Q: Entering halftime, you guys were down just 14-9 with a solid chance to knock off the defending Liberty League champs as Maki Medici silenced all the doubters going 3-3 in the first half including a 42-yard field goal. What switched up for Maki as he returned to All-American form?
A: Big guys step up in big games. Union is in his home area of Albany, so this is a game that he was pretty fired up for. He knew he wasn't playing up to his potential and I'm really proud of him and how he played. We got to work on our snaps though. He was fielding snaps off the ground and that's why that fourth quarter is something I don't even want to talk about. Twice our defense went out there and just throttled them after we had a couple of those turnovers. I think our whole team knows that the final score was not an indication of the game and we needed just one more play to swing the momentum. It was 14-9 forever. We're talking about a touchdown and we got the lead and we're going for two and we're getting fired up. Union is a tough physical team. They're going to continue to win some games and I kind of made an off-topic comment like you never know because life is funny. It'd be wonderful to get a shot at them again sometime. You never know.