Men's Soccer falls to SUNY Poly in shutout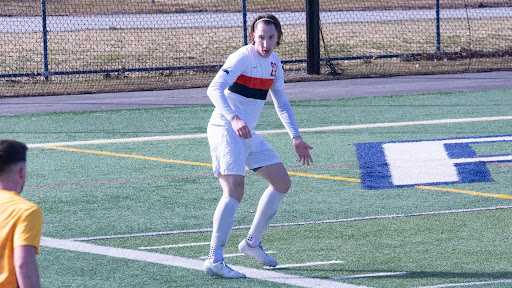 The Men's Soccer team dropped their last home game on Sept. 22 against SUNY Polytechnic Institute. The cross-town rivalry did not disappoint as the Pioneers lost 1-0. 
It was a game that displayed strong defense from both teams as they gave each other little room to get anything going, especially early in the first half.
The Pioneers took control of possession first, playing their backs up high in hopes of creating some offense. Eventually they broke through with multiple chances at the net, heavily led by Sophomore Austin McCarthy, Junior Sory Konate and Freshman Jacob Sherline. 
The trio connected on some quick and tight two-on-ones that resulted in the offense quickly gaining momentum, especially early on in the first half. 
UC's defense was led by captain Colin McCarthy, playing the entirety of the game. His 6'3" stature and agility allowed him to keep defenders to the outside. McCarthy also utilized his height offensively as he jumped up a couple times into the box on the Pioneers' corners. 
The brick wall of a defensive unit, alongside goaltender Foti Xidas, held SUNY Poly to just seven shots, three of which landed on net. This, compared to the Pioneers' 16 shots with seven of them landing on the cage. 
As the halves wore on, fatigue settled in on the Pioneers. 
On the other side of the ball, SUNY Poly's North Atlantic Conference Defensive Player of the Week, James D'Alessio stopped all seven of the shots put on net. The Wildcats remained steadfast with little to no room for change, giving UC's players no time and space. 
Early in the second half, the Wildcats turned the burners on a weary Utica team and seized their only scoring opportunity. 
At the 59:39 mark of the half, SUNY Poly's Peyton Bennett put one past Xidias to give them the 1-0 advantage that would ultimately become the game winning goal. 
SUNY Poly never got comfortable, and throughout the game, they continued to play hard and smart to keep Utica scoreless. 
After the game, Senior Captain Colin McCarthy said the team was upset with the loss and knows they must continue to practice hard moving forward.
"We need to keep our defense strong, but also need guys to step up offensively," McCarthy said. "We have a break coming up and that is certainly the mindset heading into it."
UC has a 10-day break until they face Elmira at Charles A. Gaetano Stadium at noon on Saturday, Oct. 2.  The Pioneers are 0-1 through conference play as they head into Saturday's game against the Soaring Eagles.