Senior wide receiver Nate Palmer making a big impact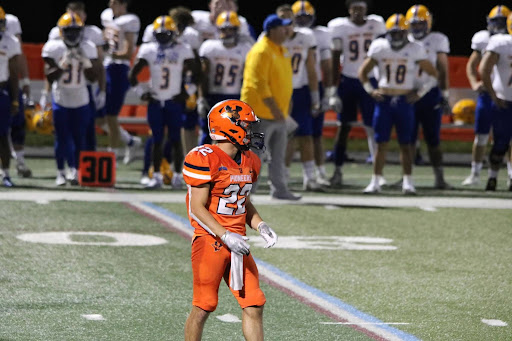 Around campus, teammates of UC football's senior captain Nate Palmer claim he can never be spotted without an infectious smile across his face and a Yeti of Mountain Dew in his hand, but the team's head coach, Blaise Faggiano, said on the field, Palmer is nothing short of a "fierce competitor."
Four years ago, the local high school football star from VVS caught the eye of Faggiano. It took just one game, his Senior All-Star game, and four touchdowns for Faggiano to invite Palmer onto the UC campus. 
Shortly after stepping onto campus and speaking with the offensive coaches, Palmer became equally as enthralled by the program that he'd soon choose to continue his football career with.
As a 5'6'' freshman, Palmer played in more than half the games that season, not allowing his height to set him back once making it to the collegiate level. 
"I've played football my entire life," Palmer said. "I have always been undersized, especially in football, but my parents didn't let that be a factor. They taught me how to use my strengths to my advantage." 
Today, Palmer is in his fourth but not quite final season for the Pioneers, and he's off to a notable start. 
Following their first week of regular season play, Palmer received Empire 8 accolades, being recognized as Special Teams Player of the Week following a performance that consisted of 68 yards on three punt returns, as well as 180 receiving yards on nine catches.
As a wide receiver, Palmer stands first in the Empire 8 with 377 receiving yards – this stat also places him 8th in Division III. 
However, Palmer is so much more to the Pioneers than just a receiver.
At this point in the season, Palmer has placed himself top ten in rushing, receiving and punt returns within the Empire 8 and is nationally ranked among all Division III athletes in all purpose yards. 
"Everyone has seen him develop as a wide receiver and one of the top punt returners in the country," Faggiano explained. 
UC's Sept. 18 win over Western New England helped Palmer build on these stats, now accumulating just under 700 all purpose yards over the first three games of the season.
Faggiano praised Palmer not only for his skills, but also for how well he's stepped into his role as a leader. 
Sophomore teammate Connor Mooney recognized this aspect of Palmer as well. 
"He works harder than anyone and is always thinking of what he can do better even if the play was great," Mooney said. "He pushes everyone to do better too."
In his four years with the program, Palmer has shown to leave his mark and will continue to inspire his teammates even after graduation. 
"He's my big brother on the team and I want to take his spot and fill his shoes when I get my chance," Mooney said. 
Although Palmer is in his fourth season, he intends on using up all his eligibility, including the extra season all athletes earned due to the shortened COVID-19 season of spring 2021. 
Following graduation, Palmer looks forward to trading in one uniform for another, entering the State Troopers Academy and eventually becoming a part of the K-9 unit. 
For right now though, Palmer is only focused on this season. 
"This year I hope to have our winningest season," he said. "As a team, I hope to win the Empire 8 Championship and go to the postseason."