Q and A with Coach Faggiano: Orange Out victory in home opener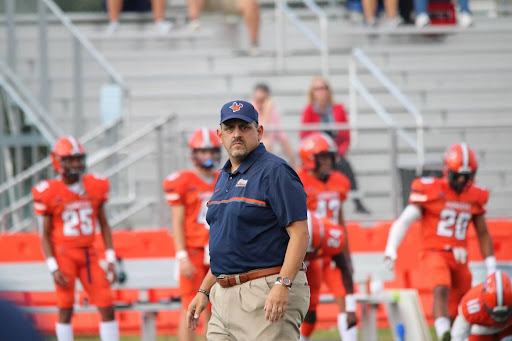 The Utica College Pioneers are coming off of a 37-28 win over the Western New England Golden Bears in their home opener for the 2021 season. In a game with constant changes in momentum, the Pioneers survived.
Head football coach Blaise Faggiano was ecstatic with the victory as the team continued on a roll heading into their game versus #12 Union this Saturday. Despite the victory, Faggiano isn't done improving his team after they committed 15 penalties that accounted for 157 yards. 
Q: Ucpioneers.com used the term slugfest to describe the game. How would you describe it overall? 
A: It really was big plays back and forth. They were able to run the ball on us. You know, our gap control wasn't great at times. They found those seams, because they're patient in their zone game and they came hard. They played physical and that's where I give them a lot of credit. You can see that they're certainly the top team in New England and I'm sure they'll win their conference. I really think talking to their coach after the game, like, they'll be better for having played that game just like we will be. When you play good people, you learn more about yourself than when you go and dominate a weaker opponent. I think that game will really help them as they move on to the rest of the season too.
Q: At multiple points throughout this game, especially in the first half, penalties reared their ugly head. How important were those penalties in this game?
A: Well, penalties, it's all about the timing. What was tough about it is there were major swings in the game on some of the penalties, right? I'm not going to coach our defensive backs to play any different. They did a great job. Number four, is a tremendous receiver. He had nine catches for 90 yards and just one touchdown. If you told me that he was only going to have one touchdown in the game, and we would live with that, I'd tell you absolutely. 13 had a couple touchdowns for them. We knew he was capable, and that they'd go to him. But overall, I thought Terrence and Jamel played well. I mean, the late flag they threw on Terrence was just terrible. That's why they overthrew it. I think the crew met and said no, no, no, that's about as perfect as you can play ball. But again, if that would have stayed, that would have given them all this momentum that they're trying to get back in the game. We still got to clean up our long snapping and short snapping, which wasn't very good. That makes it stressful for Maki punting and Maki kicking.  Missing the field goals and missing the extra point was not on Maki. It's all in the operation. We have to get that cleaned up, for sure. We definitely left some points out there. 
Q: Things just weren't working for the Pioneers in the fourth until offensive coordinator Gerbino lined up a pivotal drive. This included 41 yards with the ground game from Jamarious Morgan and Tim Hogan that was finalized with a 23-yard bullet to Matt Brantley with 5 minutes remaining. What was going through your mind as you were marching down the field?
A: We had to be aggressive in this game. Like if they're going to keep playing the safeties like that then we're going to go after them. Now, I'd like to think moving forward that's going to help us. I think teams are going to back off their safeties and back off their corners and try not to let us get over the top. We're going to loosen that up and it helps your run game and it helps your quick game. We threw a ton. I don't know if we've had a game where we threw the ball downfield like that. It was like we were Hartwick. They throw the ball down the field so much. Those passes aren't completed as high sometimes but it presents us with huge gains. We were patient and we kept going after them. I was really pleased with the run game. Our offensive line got some movement up front and I think they're going to have some confidence going into this next game.
Q: Your upcoming game will be against ranked Union College on what was supposed to be Homecoming Weekend. This will be your sixth matchup being 4-1 in all other matchups against this team. What are going to be your main points of emphasis in practice this week as you prepare?
A: Fundamentals. They're a very good team. I think we're a pretty evenly matched team. I think it's a game that's going to come down to possessions, field position and special teams. They're a very good team with two very good running backs. They have a big athletic offensive line. They have an athletic quarterback. On defense, they're very well coached. I know coach Flanders really well. He was an old Albany guy like myself. They are Liberty league champs and they deserve the national ranking that they have. But I think we match up well and our kids are hungry. We know we're 3-0 and don't have any votes in the top 25 yet. I mean, we're still earning our respect as a program nationally. So there will be a few people looking at this game as a big Empire 8, Liberty League game. I know the Empire 8 has been doing pretty well overall in its non-conference. This is a huge game. We went from playing conference champs of the CCC to playing Liberty league champs so our conference is no joke.