Former congressman and UC alumnus Sherwood Boehlert dies at 84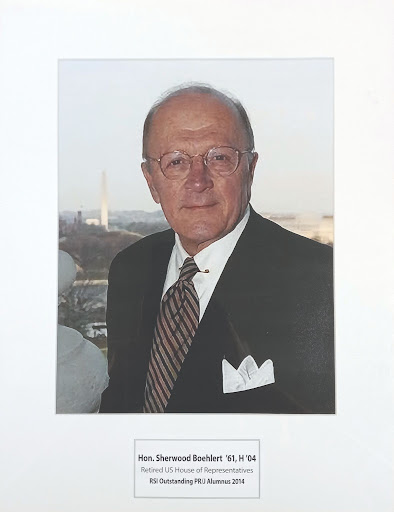 Former Republican Congressman and Central New York native Sherwood Boehlert died on Sept. 20 at age 84, according to a statement from his former staff. 
The calling hours and funeral mass will be held at Our Lady of Lourdes Church in Utica. The calling hours will be from 3-6 p.m. on Sept. 26 and the funeral is at 10 a.m. on Sept. 27.
Boehlert, who graduated from Utica College in 1961 with a degree in public relations, served 24 years in the House of Representatives between 1983 and 2007 in the 25th, 23rd and 24th congressional districts.
Before his time in Congress and at Utica College, Boehlert served in the U.S. Army from 1956–1958. As a Utica College student, Boehlert was involved in Greek life and became the Tangerine's Sports Editor and Managing Editor. 
Throughout his storied political career, he remained connected to the Mohawk Valley and often spoke about his affinity for Utica College.
"I can remember how rooted he was in his origins, you could never separate Sherry from where he came from," said Kim Landon, professor emeritus of journalism. "I think of him as inseparable from UC."
Boehlert's legacy hasn't gone unrecognized at Utica College, as the Sherwood Boehlert Hall and Conference Center, formerly New Hall, was dedicated in honor of Boehlert in October 2007.
Utica College paid tribute to Boehlert and his contributions to the college in a statement released on social media.
"Sherwood Boehlert was a public servant in every sense of the word. He represented his constituents with respect, dignity, compassion and his deepest commitment," according to the college. "Utica College is honored to count him as one of its most distinguished alumni. We join our community and the nation in mourning his passing and celebrating his legacy."
Utica College President Laura Casamento said that she, like many others, was saddened to hear of his passing.
"Sherwood Boehlert was a distinguished alumnus and emeritus trustee of Utica College, but more than that, he was one of the College's most ardent champions," Casamento said. "He was an incredibly well respected member of Congress. He carried the UC banner proudly on Capitol Hill, never letting pass an opportunity to boast of his pride in his alma mater. As a friend, colleague, and fan, he will be deeply missed. His legacy, however, is woven into the fabric of the College."
Landon knew Boehlert as a former student and close friend of late Professor Raymond Simon. She officially met him after he was elected Oneida County Executive and he was a guest speaker in her reporting class.
"Being a graduate of Professor Simon's discipline felt like you were part of a family," Landon said. "We were both Ray's kids. I feel I've known him for all that time."
One of the most striking memories of Boehlert was during the ceremony where  Simon was awarded an honorary doctorate degree in 1996, Landon said. As a senior faculty member of the Public Relations department, she wrote the tribute for the degree which referenced Boehlert.
"I said that [Simon's] influence had reached newspapers, radios and even into the halls of Congress," said Landon, who had been sitting next to Boehlert during the ceremony. "When I looked at Sherry, tears were streaming down his face. It told anyone everything they needed to know, that he came from humble beginnings and appreciated everyone who supported and gave him a hand."