Football team wins home opener in spirited and competitive game
Pioneers Football 3-0 this season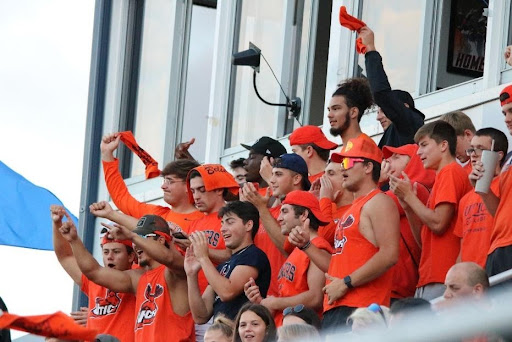 The Utica College football team played their first home game of the season on Sept. 18 against Western New England University. Utica was victorious with the final score 37-28. 
Family and friends showed their Pioneer Pride in an "Orange Out" game by dressing in orange and blue throughout the stands. Spectators were extra enthusiastic as sounds of a cheering crowd set the tone and Utica dominated most of the game. 
In the second quarter, Elijah Parker scored on a 39-yard pass from Sonny Badyna putting UC in the lead after a rough first quarter. A 51-yard touchdown in the third quarter by Nate Palmer brought UC's score to 24 and Western New England to 19. The crowd celebrated during the beginning of the fourth quarter when UC recovered a fumble. 
Pressure on the UC team began to rise when Western New England University scored a touchdown with less than 7 minutes left of the fourth quarter. Matt Bradley scored his third and final touchdown of the night with a 67-yard reception putting UC ahead and continuing their winning streak this fall semester.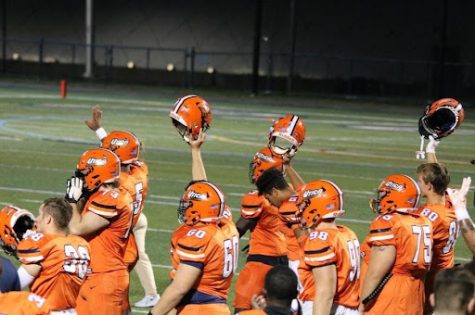 Despite having 15 penalties, the team persevered. UC displayed strong offense and strategic defense plays, leading them to a victory.
"The atmosphere was insane," running back Tim Hogan said. "It felt amazing being home at 'The Gaet.' Our crowd is one of a kind and my team and I definitely felt their presence. There is more to come. We just try to go 1 and up every week."
The Pioneers face Union College this weekend in another home game. It starts at 1 p.m., Sept. 25 at Charles Gaetano Stadium.