'Trifles' auditions on Sept. 17: What to know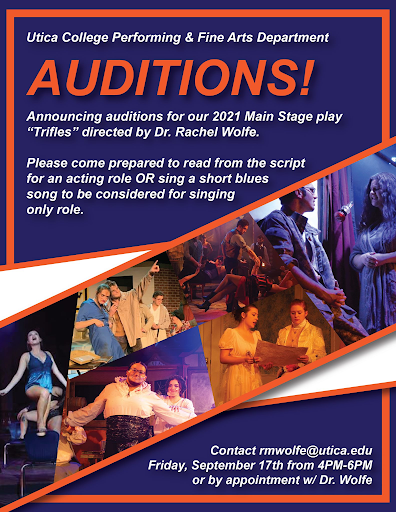 Auditions for the one-act "Trifles" will take place from 4 – 6 p.m. on Friday, Sept. 17 in Strebel Auditorium. The one-act play is being directed by Theatre Professor Rachel Wolfe and will premiere sometime in early November.
Appointments can be made for students who are unable to come during the scheduled time frame.
"I have always wanted to direct 'Trifles,' but never thought I would get a chance to because it is a one-act and mainstage shows are usually full plays," Wolfe said. "This year, however, since I am teaching the directing class for the first time and they will all be directing one-acts, I saw it as an opportunity for the mainstage."
"Trifles" is a one-act that was published and created in 1916. The story follows the investigation of a murder on a man named John Wright, while the men: Hale, The county attorney, and the sheriff continue to go off of assumptions and find solid evidence. The women of the show, Mrs. Peters, Mrs. Hale and Minnie Wright, have their own discoveries which leads to a twist that many would find shocking.
While the show is a part of the one-act festival that will be staged this semester, she's also using it as an example for her class, Wolfe said.
"That class will see the process of directing a one-act from the inside," Wolfe said. "[They will be] sitting in on auditions and the occasional rehearsal, as I both show and tell them about the process of directing a one-act."
One question many students have had however is how the schedule will look. Wolfe said while the schedule is based on how the cast is made, it will be able to be flexible to the students who are cast.
"I typically make schedules by working around actor conflicts once I have cast the show, but in general terms I expect rehearsals to be about two hours in length and take place on most–but not all–weeknights," Wolfe said.