Utica College 75th anniversary Homecoming canceled, some events for current students will take place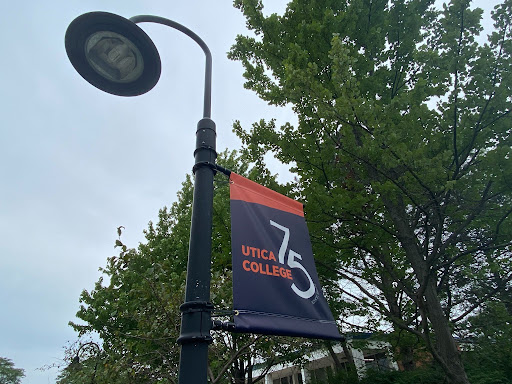 The Utica College community received notice on Aug. 23 that Homecoming, Alumni and Family Weekend had been canceled. This marks the second consecutive year where Homecoming festivities have not taken place at Utica College.
 President Laura Casamento made the announcement on the college's social media platforms and outlined the precautionary mindset that prompted the cancellation.
"After careful review of the developments surrounding the Delta variant of COVID-19 and in light of current high transmission rates in Oneida County and much of the Northeast, we have decided not to hold Homecoming, Alumni, and Family Weekend as planned on September 24-26, 2021," according to Casamento's announcement. 
According to the New York Times, there have been an average of 65 cases per day reported in Oneida County. The increase in case numbers can be linked to the appearance of the Delta variant, which is a new branch of the COVID virus that is considered more contagious by the CDC.
The reactions to the cancellation announcement have been mixed, especially since Utica College celebrates its 75th anniversary this year. Upperclassmen expressed disappointment at the change, while freshmen, sophomores and recent transfers had fewer opinions on the matter. This is likely because they have yet to experience a collegiate Homecoming and are unaware of what they're missing.
Among the student body, there has been some miscommunication regarding what events will still take place. While the alumni and family facets of Homecoming have been completely cancelled, the football game will be open for student spectators.
Other events will be hosted by the Utica College Programming Board for students. UCPB will be sponsoring a casino night, DIY projects and multiple other activities for Utica College students.
According to Jason Francey, the assistant director of College Engagement and UCPB advisor, some of the events originally scheduled for students will still occur, they just won't be associated with Homecoming.
"It's basically morphed into a weekend long series of events for only students with some of the stuff we had planned will still be happening for students," Francey said. "The events still happening are not being branded as Homecoming because the word has a connotation of family and alumni being involved."
This is the second year in a row that Homecoming has been canceled because of the COVID-19 pandemic. The number of students who have experienced full capacity Homecomings have decreased as students have graduated. Third-year students have only been able to attend one traditional Homecoming.
MaryGrace Kehrli, a junior Health studies major, said she was looking forward to Homecoming because she, like other juniors, haven't been able to experience the festivities since their first year on campus.
"I was really excited to go this year because I haven't been in a while," Kehrli said. "Plus, I have made more friends, so I wanted to go with them, too."
The original plan for Homecoming included reminiscent events for alumni, a carnival with multiple attractions and non-student access to the football game. Attendees were required to pay a fee for certain events that will be refunded. The new Utica College Science Center was also slated to have an official dedication during the Homecoming weekend.
Dayna Losito, a senior Health Studies major and a member of Chi Beta Sigma, said she enjoyed attending Homecoming events as an underclassman. Although the events aren't exactly the same now because of COVID-19, she still shares a somewhat positive attitude for them.
"I went both my first and second year to both the tailgate and the football game," Losito said. "No matter which way you turned your head, the only thing you saw and heard were people. It was such an upbeat place to be. I'm glad students can still attend the game, but it's definitely not the same as pre-COVID Homecomings."