Pat Rivers
Asst. Sports Editor
"Today we got better."
Those are the words that fuel Utica College men's hockey leading scorer Alex Brissette. He didn't hear those words from a prestigious athlete or spokesperson for that matter; he saw it in the University of Vermont locker room back when he was playing junior hockey. That phrase never left his mind and to this day, it has been the most influential quote so far in his life.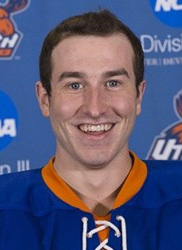 This says a lot about the 5-foot-10 180 pound sophomore forward from Atlanta, Georgia. It explains his work ethic, mindset, and integrity in just four words. This quote explains the ability to move forward and continue working. It explains that he has a team mindset, because not only did he get better; his teammates also got better. Lastly, the quote highlights that he understands there is always room for improvement. Therefore, although he is the leading scorer on this year's team, he will work just as hard as if he barely saw the ice.
Brissette credits his parents with having the greatest influence on his life while growing up. His father played hockey back in his days and he ultimately got Alex and his sister into the sport. Brissette began playing hockey at 10 years old, but just hockey wasn't enough. He also played basketball, baseball, and soccer as well; he was just a full-time athlete as a kid. In fact, hockey wasn't a bit popular in his hometown, but it was the sport he fell in love with.
He went on to play for the Atlanta Jr. Knights in his high school days because his school did not have a hockey team. In his two-year stint with the Jr. Knights, he recorded 36 total points, before moving on to play for the Hampton Roads Whalers. Brissette spent his next two years with the Whalers, accumulating 123 total points.
Patrick Cavanagh, the coach at Hampton Roads, happens to be good friends with UC men's hockey coach Gary Heenan and essentially introduced Utica College to Alex and he loves it here. Brissette says he loves the small town feel and the spotlight of playing for the most popular team on campus. He also says the transition from Georgia to New York was much easier than he had anticipated. Aside from the weather being much colder, life in NY has been "relatively easy to adjust to," Brissette said.
Trent Samuels-Thomas, a junior on the men's hockey team, described Brissette as a great teammate and a cool guy who works hard.
Brissette says Heenan demands excellence and commitment, along with 100 percent effort every second that they are on the ice. Therefore, seemingly every player must work hard, which essentially contributes to the success of the program.
Another vital contribution to success is teamwork. Having a connection on and off the ice is key to winning in hockey. Brissette has the strongest connection with fellow sophomore teammate Mikhail Bushinski. They run the top of one of the power play units together and have made a ton of big plays while on the ice with one another. Brissette says they are always discussing games and how to gain an edge.
One common topic of discussion, a national championship, is the ultimate goal of this season for Brissette and the entire hockey community here at Utica College. His favorite hockey player is Chicago Blackhawks Center Jonathan Toews. Toews led the Blackhawks to the Stanley Cup last year, where they became NHL champions. Brissette hopes to follow in his footsteps and bring a championship back to Utica.