Frank Bianco, Copy Editor 
Over Homecoming weekend, students, alumni and families showed out to support the college sports teams, were treated to a carnival on the back lawn of Strebel and held various reunions. Homecoming was also added a musical touch with the country rock band Broseph and Madame ZZ and Her Gentlemen.
On Friday at 8:30 p.m. Broseph took the stage outside of the Strebel Student Center, soldiering on through the 40 degree weather to deliver a knock-out performance.  With the bright lights of the carnival cutting through the night sky, Broseph opened with their song "Let's Do This" from their EP of the same name, a rave-up number that got the crowd going.  Before long, everyone started singing along with the songs.  
The sound of the band features accomplished rhythm work from bassist Sean Halbrook and drummer Aaron Larsen, as well as some killer duel guitar tradeoffs between guitarist's Chris Yost and Brooks Boyers. Boyers alternates between a Gibson Les Paul and a Fender Telecaster, while Yost also plays with a Telecaster, as well as special prototype Sublime guitar that a former bandmate managed to procure for him.
"This guitar is special to me," Yost said.  "There's only about three of these in existence; I lucked out."
The band played mostly originals, including their forthcoming single releasing on Oct. 31 called "Magic," as well as a few cover songs.  
"Everywhere we go, we try to spread good vibes and positivity," lead singer Brock Jones said before launching into another song.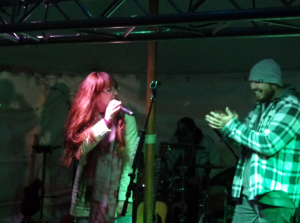 One of the highlights of the performance was when Jones invited a fellow student onto the stage to duet the Chainsmokers' song "Closer." Initially nervous, the student found her confidence and hit all the right notes with Jones.
Broseph closed the show with their song "Sombrero," which featured guitar solos that brought the show to a distorted, fuzzy conclusion.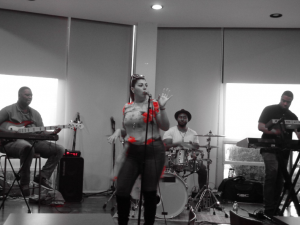 By contrast, Madame ZZ and Her Gentlemen played an intimate set Saturday afternoon in Pioneer Pub.  
These Syracuse locals played a set of classic R&B songs from the likes of Aretha Franklin, Michael Jackson, James Brown and others, as well as a few pop songs like "Walking on Sunshine" and "Valerie," all with a touch of jazz flavoring.  
What's clear from the moment the band hits those first few notes is how much each of them enjoy playing. Madame ZZ herself, (real name Zainep Abdelaal), leaves a pound of sweat on the stage gliding to and fro in the heat of the songs, with a vocal range that swells and delights in an unforgettable sophistication.  
"I've got-to untwist the mic cord many times throughout the performance," ZZ remarked in between songs. 
But don't let her captivating stage presence fool you—Madame ZZ is a courteous person who lets Her Gentlemen shine in their own right.  
On the keyboard and synthesizer was Deyquan Bowens, who played seamlessly between both instruments and took the majority of the solos with an understated charm.  Thomas 'T.C.' Carter plays bass guitar with a blend of traditional plucks and funky slap-bass percussive, as well as the keyboard bass. On the drums is Michael Gilet, who has a proficient ear for drum-fills without the pomp and overly flashy nature of other drummers.  
The band usually plays with a horn section but went with a stripped down quartet for this performance. During their rendition of Michael Jackson's "Shake Your Body (Down to the Ground)" which is normally reserved for the horn players to strut their stuff, ZZ sang an impressive scat vocal of the horn melody in tune with Bowen's keyboards.
The band closed their set with a rendition of "Proud Mary," which had everyone clapping and dancing along and ended the night on a high-note.  
Madame ZZ and Her Gentlemen can be seen frequently performing on Saturdays at the Turquoise Tiger in the Turning Stone Casino.