We Are UC: Kassidy Krenzer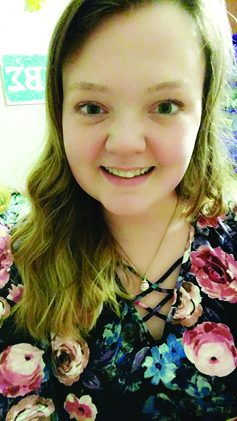 "We Are UC" highlights the people who thread the fabric of the Utica College community. These profiles are written from the perspective of the subjects themselves.
Story by Chantelle Boateng, photo provided by Kassidy Krenzer
My name is Kassidy Krenzer, and I am a junior majoring in Psychology-Child Life. I live outside of Albany and came to Utica College because of the small-campus atmosphere, as well as not being far from home.
I was really excited to start my own life and make my own decisions, so coming to UC was not a big deal for me. Going to  summer camp throughout my childhood helped me get comfortable being away from home as well as adjust to college. I do, however, miss my mom and my cat.
One way I keep myself occupied is through the multiple organizations I am involved in, which allow me to connect with different people. A few of these organizations include Colleges Against Cancer (CAC), where I currently hold the vice president position. I am also a sister of Chi Beta Sigma and a member of the Psych Society.
I wanted to be part of Chi Beta Sigma because I was looking for a sisterhood where I could form lifelong bonds and relationships, being that I have two brothers. I also became a member of the Psych Society due to my interest in psychology.
My goal for Colleges Against Cancer is to see the Utica College community get more involved. I know most members of the UC community have been affected by cancer one way or another, so I just want to encourage everyone to come to our meetings or at least spread the word.
I also want this year's Relay for Life to be the best one yet, and with the UC community's support it can happen. For more information on how to join Colleges Against Cancer or to help, email me at [email protected].