Women's LAX win streak comes to an end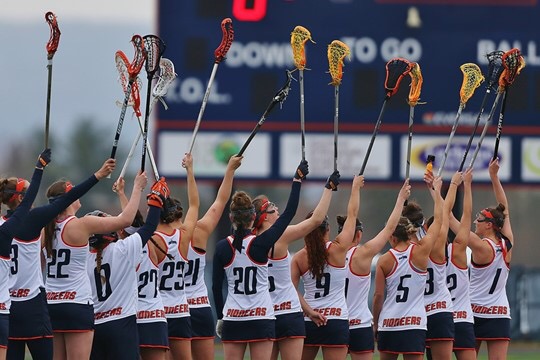 Zach Thomann, Assistant Sports Editor 
The women's lacrosse team's five-game winning streak came to an end Wednesday after a 6-17 loss against Ithaca College. This is the Pioneer's first loss in the Empire 8 and the team is now 6-4 this season.
Ithaca started off strong with the first three goals, but Utica responded with the next two goals scored by sophomore Katlyn Scarpinella and senior Rebecca Plunkett.
The next eight goals however, were scored by Ithaca, which put the the team ahead 11-2. The Pioneers held the Bombers to five goals in the second half, but the lead was insurmountable.
Plunkett lead the Pioneers with three goals, while sophomore Allison Panara lead the Bombers with six goals.
Ithaca now leads the Empire 8 with a 4-0 record and are now 9-2 this season.
Utica's next game will be on the road Saturday when the team faces Stevens Institute of Technology at 11 a.m. Stevens is also 4-0 in the conference and holds a 9-3 record overall.