Player Profile: Roman Ammirato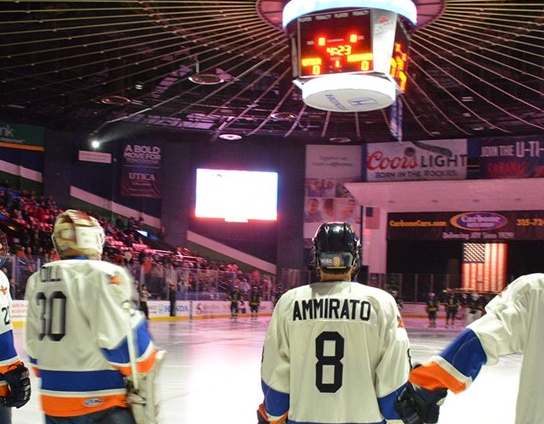 Jacqui White, Staff Writer
Born in Williamstown, New Jersey, Roman Ammirato has made a name for himself on the Utica Pioneers men's hockey team. Originally playing for Union College, the then sophomore transferred to Utica College after the 2015-2016 season ended.
Ammirato started playing hockey when he was three years old, which gives him a little more than 21 years of experience in the game.
"I decided to transfer to Utica in May of last year because of how good of a school Utica was," Ammirato said.
While at Union, Ammirato had a total of three goals; one in his freshman year and the remaining two scored during his sophomore year. While Ammirato played for Union, he appeared in 19 games during his sophomore year and 32 games his freshman year. In October of 2015, Ammirato took a season high of four shots against New Hampshire and Rensselaer.
"We heavily recruited Roman," head coach of the Utica hockey team Gary Heenan said, "we're very fortunate to have landed him."
"Utica was also a great opportunity to play on a great hockey team and in front of our incredible fans," Ammirato said.
In his first year at Utica College, the now junior Ammirato is the team leader in goals after scoring nine goals within the first 10 games of the season. He is also the team leader in assists with 10 and 19 total points on the season.
The health studies major hopes to be able to play professional hockey if everything works out in the next two years.
"It's always been my dream to play professional hockey," Ammirato said. "If hockey doesn't work out, then I would have no problem going out and finding a different job."
"I can't thank Coach Heenan enough for the opportunity he has given me to excel on and off the ice," Ammirato said.
Ammirato's next goal is to help to be a leader to his teammates and do whatever it takes
to keep winning at the rate they have been.