A man and his mother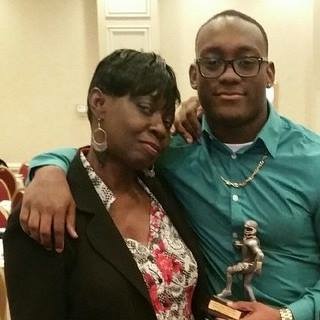 Corey Giacovelli, Contributing Writer
Utica College senior, Juwan Wilson, is driving back home in South Ozone Park, NY. He had a million thoughts going through his head; usually he was happy going home because he got to see his friends and his family.
This time was different; this was going to be the last time he was going to be able to say hello and goodbye to his best friend.
Everyone dreams of having that close relationship with their mother -being able to talk to her about everything and just putting a smile on her face because she is able to put one on yours. Wilson had that with his mother.
Their relationship was always like that. His mom always wanted the best for Wilson.
Wilson is Utica football's captain. He's an undersized linebacker who always gives 110 percent on every play. That is why he is third on the college's all-time list in tackles. His upbringing says a lot about who he is and this stemmed from the discipline his mother, Grae Wilson, instilled in him.
"My mom did not want me going to any public schools because of the neighborhoods they were around," Wilson said. "Therefore I had to wake up at six in the morning to start my two and a half hour journey to school each morning at Holy Cross High School."
Early on, his mom was making him responsible by being able to handle a rough schedule at a young age. Wilson had to track the multiple buses he had to take to get to school on time. On nights he had football practice, he wasn't getting home until late at night due to the buses. His mom was always there though when he got home, making sure he had a good day and making sure that he got all of his work done.
Grae would stop all of her cooking on Sunday because the football games were going to be on and she tried to get the whole family together because family is what matters. If Wilson was playing far away in high school or college, one person was always there -his mom.
Wilson was excelling with football all through his high school years and started receiving offers from well-known schools, which was exciting because his work was paying off. Once again, there was that one person by his side that was helping him through it -his mom.
That is how Wilson ended up here at UC. Grae wanted her son to give Utica a chance because, after all, he had nothing to lose.
Wilson respects people based on how they treat his mother because she is the most important woman in his life. Utica treated her the way no one else has before.
"I got here and I fell in love," Wilson said. "They treated my mom like the queen that she is, and that was the deciding factor."
The queen though, was slowly getting beaten from within. During Wilson's sophomore year in college, his mom was diagnosed with kidney cancer, a disease that is among the 10 most common cancers. Slowly Wilson's best friend was fading from him.
No matter how sick she got, she always attended his games and wouldn't show anyone how much the disease was affecting her. She was there for Wilson's biggest achievement, an interception return for a touchdown on last year's homecoming game, the first of his career.
"After the game, she was so excited for me," Wilson said. "She was talking about how she said it looked like when I was playing football again when I was younger."
 Once he arrived back home, Wilson knew that was going to be his final moments with his mother. She looked different this time. She could not speak and could barely move. Wilson refused to give up on her because she would never give up on him. That is why he would always call her beautiful when he was around her even though his mom would never believe him and slap his hand away with a smirk on her face.
He was able to hold his queen close to him one last time and say the words he would always say to his mother, his best friend,
"You're beautiful mom, I love you."
Wilson remembered the lengths his coach, Blaise Faggiano, and the whole team went through to know they were there for him.
"They sent down a special number nine jersey for my dad the day of the funeral," Wilson said. "They also sent down a large amount of flowers. They reminded me that they were there for me if I needed anything."
 Wilson now plays in honor of his mother as he looks to expand on his 250 plus tackles since being at Utica. Grae always told Wilson to be a role model on and off the field that other players would want to model them after. Wilson is doing just that.
His best friend, Nick Woodman, explained how his energy and passion rivals anyone when it comes to the game of football.
"Juwan overall as a person…he's definitely one of those people you'll never forget once you meet him," Woodman said.
Football commentator for ESPN Utica, Ray Biggs, talked about how football is a privilege to be played and Wilson demonstrates that on and off the field with the passion he has.
"So much of his leadership capability comes from how he leads by example, in and out of game situations," Biggs said. His tenacity, his focus, his will to win on and off the field is contagious, and it sets the bar for everyone around him to be a better player and a better man.