Walk-up tutoring available for students
Harriet Gyamera
Staff Writer
Walk-up tutoring is the newest addition to Utica College's Frank E. Gannett Memorial Library. Instead of requesting a private tutor, a process that can take about two weeks, students can approach the Learning Commons and ask for a tutor anytime.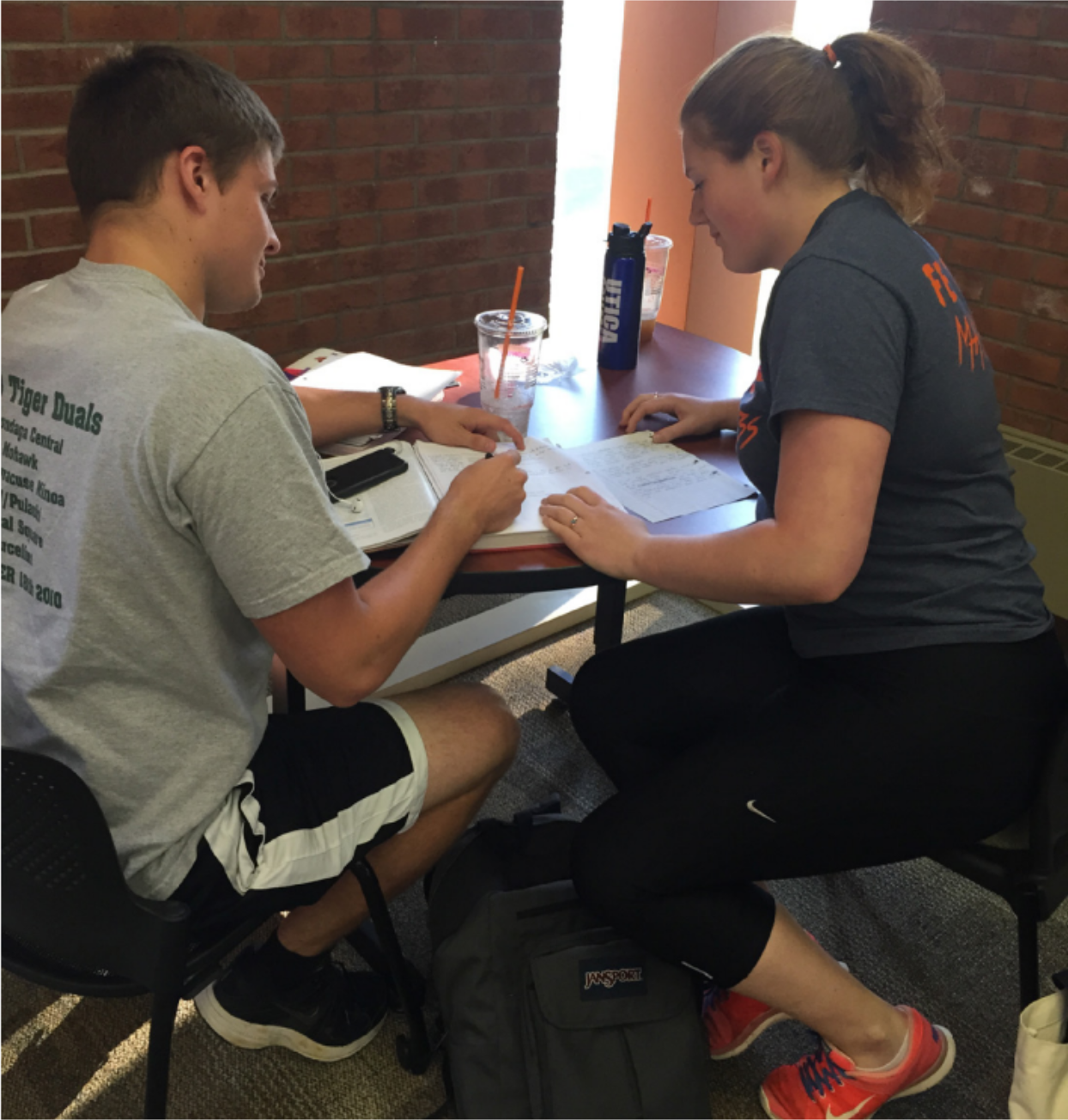 Settled in between the Writing Center and Math/ Science Center, walk up tutoring began Monday, Sept. 7. It is essentially going through a trial period. The main goal of the program is to provide another option to students who may be struggling in class. UC provides the Smart Thinking website, the Math/ Science Center, the Writing Center, and private tutoring for students.
Kimberly Etman, a Tutorial Coordinator and Counselor, is in charge of walk-up tutoring. Etman is also in charge of private tutoring here at UC.
"The table is designed to help reach more students who may not need the high level of support offered by one-on-one sessions" Etman said.
The program is also meant to provide faster help and more tutors for students.
"Any student can look at the schedule…If they see a time slot with their course that means there is a tutor at the table who can help them. Students can walk up to the tutor and ask for help without needing an appointment and are not committed to returning. They can use it at an as-needed basis," Etman said. "It's two tables for now, a small start, but hopefully it will grow."
It has been one week since the program started, but so far not many students have utilized or know about the walk up-tutoring program. Even one of the tutors were unaware that they worked for the program and not the adjacent Writing and Math centers.
"I never heard of it," junior Sarah Renaud said. "I only knew about the math and science center. I didn't know they made it broader."
This lack of general knowledge may hinder the progress of the program, even though it is very much needed on campus.
"Some students don't even know they need help until the middle of the semester when they start struggling, so they might not come here yet," Syeda Enayet said.
Despite the slow start, other tutors still believe walkup tutoring will be a success.
"Of course, it's so easy and simple", tutor Peter Truong said. "Knowing you have assistance whenever you need it is really important. Now tutors can't turn you away for not knowing your subject."
And for those students who still need extra help in particular subjects, one-on-one tutoring will still be available. As Etman stressed, walk-up tutoring should be used in conjunction with all other tutoring options. The purpose is for students to figure out what works best for them.
The tutors working the table are accessible throughout the day starting on Sundays from noon-10 p.m. and Monday-Thursday from 8 a.m. – 10 p.m.