The Magazine Writing Profile Series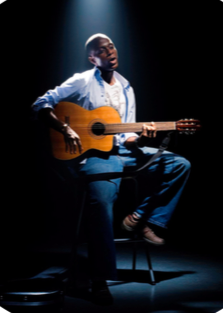 The Magazine Writing Profile Series is a weekly series that features artists performing in the Utica area, but not on the Utica College campus. Stories are written in magazine style, and submitted to The Tangerine by UC students in JLM 363—Magazine Article Writing
Nelly's Positivity and Freedom Echo
Nicholas Souza
Philosopher Jean-Jacques Rousseau once said, "A drunk mind speaks a sober heart," and one night, a very drunk woman told Nelly's Echo exactly what she thought of their music. A blonde woman stumbled up to founder and lead vocalist, Nelly, one night in a pub after his performance, slurring, "Oh my God, you sound so good, oh my god, you sound like you're not from here." Nelly responded by telling the woman that he is from Nigeria, to which the woman had to con rm, was actually in Africa. Poking Nelly in the shoulder, she explained that his music "is so relaxing, like African elevator music."
This African elevator music comes from the mind of Nelson "Nelly" Emokpae, who was born in Nigeria. Nelly, his mother, and brothers ed the country due to the political unrest, leaving behind his father who was wrongfully imprisoned. The family landed in Baltimore, Md. and used music as a sort of coping mechanism to adjust to a new culture and a new life without their father. Today, their father has been reunited with the family, and Nelly has capitalized on the American dream. Nelly's American dream is laced with positivity, freedom, and maintaining a two-way street with his audience by way of music.
Nelly draws on his many experiences and the people he encounters to create his sound.
Nelly believes that music is a two-way street, which is the inspiration for their name – Nelly's Echo. The echo refers the audience sending positive vibes back at Nelly and the rest of the band. Nelly describes himself as a positive person, and he wants the people who listen to his music and attend his shows to come away with "positivity, love, hope, everything that makes you feel good and inspires you to go do something and be a better person." He knows that these concepts are vague, and are interpreted many ways, but he wants his music to act as an escape, a "ray of love," even if it only last for the time he is on stage.
This positivity will be making an appearance at Mohawk Valley Community College this November. Nelly's great talent and, according to Justine Jeffers,
a member of MVCC's programming board, him being "culturally diverse, which works very well on our diverse campus," are why the students demanded him. The students at the college vividly remember Nelly from when he auditioned for NBC's hit singing competition, The Voice in 2012.
For many people, Nelly's Echo's big break came when he appeared on the singing competition. The singer took to the stage, facing the back of those red chairs. The hot lights were beating down on him. Standing center stage, armed with a guitar in his hand, Nelly performed Bill Wither's "Ain't No Sunshine," which he has perfected
after years of covering the song.
"Ain't no sunshine when she's gone / It's not warm when she's away / Ain't no sunshine when she's gone / And she's always gone too long
/ Anytime she goes away."
The soulful crooning of this first verse is all Christina Aguilera needs to hear to be the first judge to turn their chair around for Nelly. By the end
of the song, he gains another judge's affection when Maroon 5 frontman, Adam Levine, turns his chair.
Ultimately, he chose to be on Aguilera's team and made it as far as the battle round where he performed "Message in a Bottle," by The Police.
However, if you ask Nelly what the turning point in his career is, The Voice is not it. Rather his career de ning moment is the day that he let go of pursuing the outcomes in life and chose to enjoy the process. He refers to The Voice as a metaphor for life where thousands of people are competing for one outcome, but there can only be one winner. Nelly, however, still considers himself a winner because of the experience being on the show and enjoying the process. "I've always believed that your perspective on life is important. I've never viewed the turning points of my career as 'I was on this show' or whatever," Nelly explained as if he were a teacher passing on one of life's greatest lessons. "You have to make a choice that this is what you love to do, and this is what you're going to do for the rest of your life and then enjoy the process. And don't worry too much about outcomes."
When Nelly decided that letting go was the best route for his career, he described feeling much more ful lled with his music. He now tries to apply this thought process to all other facets of his life. He stresses that he isn't perfect though, and that he works every day, working towards being completely free. This work began during the early days of his career when he would perform at open mic nights. During one of these open mic nights, Nelly was stressing over his performance, feeling that he had not mastered the song. After expressing this fear to a close friend, his friend responded with "whenever you feel you are not ready to play a song that you have rehearsed a thousand times, that is the moment that you have to go up there and play that song." He did not quite understand this at the time, but he considers it the best advice he has ever been given.
Nelly has lived his entire life remaining positive and enjoying the experiences that life has to offer. Whether it is playing his music feeling completely free, or approaching a girl and feeling con dent because he is just living in the moment, Nelly embraces everything life throws at him. Nelly wants people to start living and stop planning because he has realized that "if you let fear grip you and hold you and keep you from doing whatever it is you want to do, you will keep rehearsing for the rest of your life. Or, you can just step out there and not beafraid to fail and enjoy the experience."
Nelly's music is soothing, positive, uplifting, and is exactly what that drunk woman in the pub said – African elevator music.
Event Information: Nelly's Echo will be performing on Wednesday, Nov. 11, at the Dr. Michael I. Schafer Theater, Mohawk Valley Community College, 1101 Sherman Drive Utica, N.Y. Showtime 7:00 p.m. Tickets $5 for General Public, $2 for MVCC Employees, free for MVCC Students. 315-731-5721. Visit calendar.mvcc.edu for more information.